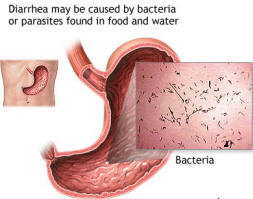 Acute diarrhea is defined as lasting less than 14 days and can lead to significant morbidity and mortality  Acute diarrheal infections are a common health problem globally and among both individuals in the United States and traveling to developing world countries. Multiple modalities including antibiotic and non-antibiotic therapies have been used to address these common infections. Information on treatment, prevention, diagnostics, and the consequences of acute diarrhea infection has emerged and helps to inform clinical management. In this ACG Clinical Guideline, the authors present an evidence-based approach to diagnosis, prevention, and treatment of acute diarrhea infection in both US-based and travel settings., Clostridium difficile infections are the most common cause of diarrhea-associated mortality but are not addressed in this guideline. These Guidelines were released in April 2016
Major recommendations
(1) Empirical antimicrobial therapy is not recommended for routine acute diarrheal infection or mild traveler-associated diarrhea (TD) (strong recommendation; high level of evidence [LOE]).
(2) Probiotics or prebiotics are not recommended for treatment of acute diarrhea in adults, except in cases of postantibiotic-associated illness (strong recommendation; moderate LOE).
(3) Disabling TD with fever should be treated with azithromycin.
(4) In patients receiving antibiotics for TD, use adjunctive loperamide therapy to decrease duration of diarrhea and increase chance of cure (strong recommendation; moderate LOE).
(5) Culture-independent methods of stool testing (eg, polymerase chain reaction [PCR]) may be used to identify etiology in adult patients with dysentery, moderate to severe diarrhea, and symptoms lasting more than 7 days (strong recommendation; low LOE).
(6) Persistent diarrhea (14-30 days) should be initially evaluated with culture and/or culture-independent microbiologic testing.
For more details click on the link :
http://www.nature.com/ajg/journal/v111/n5/full/ajg2016126a.html?foxtr