Absorb stent continue to disappoint at 3 years: TCT 2017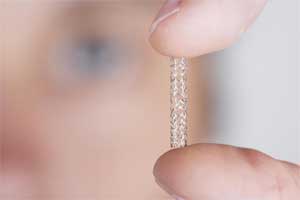 The first three-year results of Abbott's ABSORB III trial were announced at the 29th annual Transcatheter Cardiovascular Therapeutics (TCT) conference Oct. 31, nearly two months after Abbott Vascular withdrew its bioresorbable scaffold from the commercial market.
While one-year results comparing Abbott's bioresorbable device with the company's more traditional everolimus-eluting (EES) Xience stent were favorable, long-term results have been kept quiet until today.
The Absorb bioresorbable vascular scaffold (BVS) was created in response to ongoing concerns of bare metal stent implantation after percutaneous coronary intervention (PCI) in heart patients, who are 2 to 3 percent more likely to experience adverse stent-related events, like thrombosis, one year after implantation. These effects are expected to last for at least 15 years and are believed to be a direct result of the stent's metal frame intervening in regular vascular function, inducing events like chronic inflammation, neoatherosclerosis, thrombosis, and strut fracture.
BVS was developed to dissolve fully within a patient's vessels three years of implantation, with the intent of bypassing any negative side effects sustained by a metal stent, Stephen G. Ellis, MD and co-authors wrote in the ABSORB study, published today in the Journal of the American College of Cardiology. In the ABSORB III randomized trial, the Absorb BVS proved noninferior to the Xience device in the occurrence of target lesion failure (TLF), target vessel myocardial infarction (TVMI) and ischemia-driven target lesion revascularization (TLR).
The U.S. Food and Drug Administration approved Abbott's BVS device upon the release of these positive results, but recent reports from smaller randomized trials and observational studies suggested increased instances of thrombosis and MI directly related to the dismantling process of the bioresorbable scaffold.
Around 2,000 cardiac patients took part in the ABSORB III study, all of whom were undergoing PCI. Study subjects needed to be over 18 years old, exhibit target lesions no longer than 24 mm and have reference vessel diameters between 2.5 and 3.75 mm in diameter to be eligible for participation. Of the original cohort, Ellis and colleagues reported follow-up was achieved in 96.5 percent of patients.
Following one year of stent implantation, the Absorb BVS was deemed noninferior to the Xience stent for the study's primary endpoint of one-year TLF, recording a risk difference of just 1.7 percent between the two devices. Device thrombosis was recorded in 1.5 percent of BVS patients and 0.7 percent of EES patients after those first 12 months.
Three years into the study results varied more widely—the device-oriented primary endpoint was observed in 13.4 percent of BVS subjects compared to 10.4 percent of EES patients. Between one and three years after treatment, TLF occurred in 7 percent
and 6 percent of all BVS and EES patients, respectively. BVS patients also recorded higher rates of target vessel failure, death, myocardial infarction, TVMI and revascularization, Ellis et al. reported, "primarily driven by an increase in MI related to device thrombosis."
Factors like the prior cardiovascular intervention, diabetes, and vessel size were all found to be independent predictors of adverse outcomes in BVS-treated patients. Scaffold thrombosis events seemed to be clustered in very small vessels prior to the one-year treatment mark, the researchers wrote, while between one and three years thrombosis presented itself mainly in more vessels more appropriately sized for the scaffold device.
"As the vessels get larger, the risks get higher," Ellis said at a press conference Tuesday. "The basic idea is that it seems if the scaffold is not somewhat oversized, then the risk of very late scaffold thrombosis goes up."
Abbott announced it was pulling the Absorb BVS from the worldwide market Sept. 8 of this year after implantation in more than 150,000 patients across more than 100 countries.
"I think it was a business decision and I'm not a businessman," Ellis said of the company's move. "I see, potentially, a very small niche for this device."
He cited high-risk surgeries as possibilities where metallic stents might pose a greater health risk than bioresorbable ones and don't dismiss the possibility of a future bioresorbable device.
"I think we've learned quite a bit about technique," he said. "I don't think the field is closed to developed of further devices, but this is clearly a major damper on the field."