Abnormal Vaginal discharge -Standard Treatment Guidelines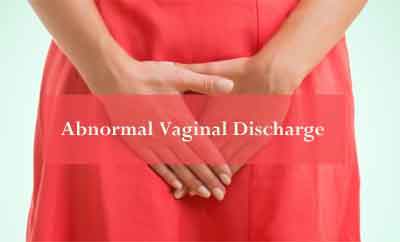 Introduction
Vaginal discharge is a fluid produced by glands in the vaginal wall and cervix that drains from the opening of the vagina. The amount and appearance of normal vaginal discharge varies throughout the menstrual cycle. An increased quantity of discharge from the vaginal orifice accompanied by discomfort, pain, itching or malodor for which the patient seeks treatment characterizes abnormal vaginal discharge. A large number of cases may also be asymptomatic or may have only minimal symptoms.
Causative organisms
The three diseases most frequently associated with vaginal discharge are


Bacterial Vaginosis: It is the most prevalent cause of vaginal discharge or malodor, however most women with BV were asymptomatic1


Trichomoniasis:


Vulvo-vaginal candidiasis:




Uncomplicated VVC which includes cases with sporadic or infrequent vulvovaginal candidiasis, mild-to-moderate symptoms, likely to be due to C. albicans or in non-immunocompromised women.


Complicated VVC which includes cases with recurrent vulvovaginal candidiasis, severe symptoms, non-albicans candidiasis or in women with uncontrolled diabetes, debilitation, or immunosuppression.


Ministry of Health and Family Welfare, Government of India has issued the Standard Treatment Guidelines for Vaginal discharge (abnormal).
Following are the major recommendations :
INCIDENCE OF THE CONDITION IN OUR COUNTRY
Most women will have a vaginal infection, characterized by discharge, itching, or odor, during their lifetime. The exact population prevalence or incidence is not clearly delineated as majority of patients do not seek any treatment. Many patients use over the counter medications as well as alternative medicines and never report to STD clinics.
DIFFERENTIAL DIAGNOSIS
While assessing a patient with vaginal discharge, one needs to rule out


Cervicitis


Pelvic inflammatory disease


Gynecological causes like fistulas, prolapse etc


Obstetric causes


Mechanical, chemical, allergic, or other noninfectious irritation of the vulva


PREVENTION AND COUNSELINGGeneral measures as applicable to all patients with suspected STIs


Educate and counsel patient and sex partner(s) regarding RTIs/STIs, genital cancers, safer sex practices and importance of taking complete treatment.


Treat partner(s) for the suspected organisms.


Advise sexual abstinence during the course of treatment to minimize transmission.


Promote the use of barrier contraception like condoms, educate about correct and consistent use.


Refer for voluntary counseling and testing for HIV, Syphilis and Hepatitis B.


Consider immunization against Hepatitis B.


Schedule return visit after 7 days to ensure treatment compliance as well as to see reports of tests done.


If symptoms persist, assess whether it is due to treatment failure or reinfection and advise prompt referral.


OPTIMAL DIAGNOSTIC CRITERIA, INVESTIGATIONS, TREATMENT & REFERRAL CRITERIA
Situation 1: At Secondary Hospital/ Non-Metro situation: Optimal Standards of Treatment in Situations where technology and resources are limited
Clinical Diagnosis:
A careful history, examination, and laboratory testing are warranted to determine the etiology
HISTORY should include Information on sexual behavior and practices, menstrual cycles, vaginal hygiene practices (such as douching), and other medications.
EXAMINATION to assess colour, odour, amount (profuse or scanty), character (curdy or thin) of the discharge, associated vulvar abrasions or erosions, urethral meatal discharge and presence or absence of foreign body or IUD thread
Speculum examination can reveal


White, homogenous discharge, uniformly adherent to vaginal walls with redness of the vaginal walls suggests BV


White, curdlike discharge seen in candidiasis


Greenish, frothy discharge seen in trichomoniasis. May also cause strawberry appearance of the cervix.


Investigations


Vaginal discharge pH


Potassium hydroxide (KOH) test


Wet mount


Gram stain (considered the gold standard laboratory method for diagnosing BV)


Culture for yeast- For women with negative wet mounts who are symptomatic.
Identifying Candida by culture in the absence of symptoms or signs is not an indication for treatment.


Treatment


Treatment is recommended for symptomatic women to relieve vaginal signs/ symptoms


Other potential benefits are reduction in the risk of cervicitis causing organisms, HIV and other viral STDs.


If there is Vaginitis (TV+BV+Candida)


Tab. Secnidazole 2gm orally, single dose (Tab. Metoclopropramide taken 30 minutes before to prevent gastric intolerance)
OR


Tab. Tinidazole 500mg orally, twice daily for 5 days
PLUS


Tab Fluconazole 150mg orally single dose
OR


Clotrimazole 500mg vaginal pessaries once


If Cervicitis


refer to relevant guidelines


If vaginitis and cervicitis bothAlso


Schedule return visit after 7 days


Instruct client to avoid douching


Pregnancy, diabetes, HIV may also be influencing factors (to be considered in recurrent infections).


Management of Sex Partners


Routine treatment of sex partners is not recommended in cases with VVC or BV.


Treat current partner only if no improvement after initial treatment.


If partner is symptomatic, treat patient and partner using above protocols.


Advise sexual abstinence during the course of treatment


Provide condoms, educate about correct and consistent us


Partners of patients with T. vaginalis should be treated with either tinidazole in a single dose of 2 g orally or metronidazole twice a day at 500 mg orally for 7 days.


For patients with VVC a minority of male sex partners might have balanitis and benefit from treatment with topical antifungal agents.


Alternative regimesFor TV or BV (ANY ONE)


Metronidazole 2 g orally in a single dose


Metronidazole 500 mg orally twice a day for 7 days


Tinidazole 2 g orally once daily for 3 days


Tinidazole 1 g orally once daily for 5 days


Clindamycin 300 mg orally twice daily for 7 days


For VVC (ANY ONE)


Miconazole 2% cream 5 g intravaginally for 7 days


Clotrimazole 1% cream 5 g intravaginally for 7–14 days


Special ConsiderationsComplicated VVCRecurrent Vulvovaginal Candidiasis (RVVC):
characterized by four or more episodes of symptomatic VVC in 1 year. Mostly there are no apparent predisposing or underlying conditions. For management.


Investigations: Obtain vaginal cultures


Treatment: To maintain clinical and mycologic control


Initial therapy- longer duration of recommended therapy to attempt mycologic remission


7–14 days of topical therapy


100-mg, 150-mg, or 200-mg oral dose of fluconazole every third day for a total of 3 doses [day 1, 4, and 7]


Maintenance Regime


Oral fluconazole 100-mg, 150-mg, or 200-mg dose weekly for 6 months.


susceptibility testing is not recommended.


Severe VVC:
Characterised by extensive vulvar erythema, edema, excoriation, and fissure formation. Patients treated with short courses of topical or oral therapy are associated with lower clinical response rates in.
Treatment
with


7–14 days of topical azole
OR


150 mg of fluconazole in two sequential doses (second dose 72 hours after initial dose).


Nonalbicans VVC:
Optimal treatment options remain unknown.


Treatment options


longer duration of therapy with a non fluconazole azole drug (oral or topical) as first-line therapy.


If recurrence occurs, 600 mg of boric acid in a gelatin capsule administered vaginally once daily for 2 weeks.


Compromised Host:
Includes women with underlying debilitating conditions who do not respond as well
Treatment


Correct modifiable conditions


Prolonged (i.e., 7–14 days) conventional antimycotic treatment


PregnancyRecommended Regimens for Pregnant Women
In first trimester of pregnancy


Local treatment with Clotrimazole vaginal pessary/cream only for candidiasis.


Oral Flucanozole is contraindicated in pregnancy.


Metronidazole pessaries or cream intravaginally if trichomoniasis or BV is suspected. In second and third trimester.


oral metronidazole can be given (500 mg orally twice a day for 7 days OR 250 mg orally three times a day for 7 days).
OR


Tab. Secnidazole 2gm orally, single dose
OR


Tab. Tinidazole 500mg orally, twice daily for 5 days.


HIV Infection


HIV-positive women- screening for trichomoniasis at entry into care with subsequent screening at least annually is recommended based.


Rescreening 3 months after completion of therapy should be considered among HIVpositive women with trichomoniasis.


Multidose treatment regimen to be considered in HIV-infected women, single doses not effective.


Therapy for VVC in HIV-infected women remains same


Long-term prophylactic therapy with fluconazole (200 mg weekly) recommended for recurrent VVC with HIV.


Occurrence of RVVC should not be considered an indication for HIV testing


Referral criteria
Treatment failure (after excluding reinfection and resistance)
Situation 2: At Super Specialty Facility in Metro location where higher-end technology is available
Clinical Diagnosis
Same as above
Investigations
Same as above
In addition, following tests can be done if available
a. Culture for T. vaginalis- sensitive and highly specific commercially available method of diagnosis.
b. NAAT
c. Nucleic acid probe test to evaluates for T. vaginalis, G. vaginalis, and C. albicans.
a. DNA probe-based test for high concentrations of G. vaginalis
b. PCR- used in research settings for detection of a variety of organisms associated with BV. Clinical utility is uncertain.
c. Culture of G. vaginalis not recommended as a diagnostic tool
For other causes
a. PCR assay for detection of gonorrhea and chlamydial infection, also tests for T. vaginalis
Treatment
Same as above
Guidelines by The Ministry of Health and Family Welfare :
Dr. M.K. Daga
Department of Medicine
Maulana Azad Medical College
New Delhi