AAP Updates Guidance on Preventing, Managing Infants with Group B Strep Disease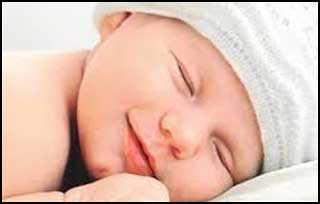 Pediatricians update neonatal recommendations that, together with revised maternal guidelines by the American College of Obstetricians and Gynecologists, replace the CDC 2010 Perinatal GBS Prevention guidelines
The American Academy of Pediatrics, issuing a clinical report on managing infants at risk for Group B Streptococcal Disease, affirms its support for universal testing of pregnant women so that antibiotic treatment may be provided during delivery to protect the newborn.
The AAP joins the American College of Obstetricians and Gynecologists in updating practice guidelines that were formerly provided by the Centers for Disease Control and Prevention and last updated in 2010. In separate but aligned publications, both organizations provide clinicians with guidance on neonatal and obstetric care.
"AAP is pleased to support maternal policies and procedures that help safeguard infants from this disease, which can have severe -- and sometimes fatal – consequences," said the report's lead author, Karen M. Puopolo, MD, PhD, a member of the AAP Committee on Fetus and Newborn. "We know that by taking preventive steps during prenatal care, and by treating the mother with antibiotics during labor, we can prevent infection in babies. This is especially important for preterm babies who face higher risks."
The AAP clinical report, "Management of Infants at Risk for Group B Streptococcal Disease," will be published in the August 2019 Pediatrics (published online July 8). The ACOG Committee Opinion on Prevention of Group B Streptococcal Early-Onset Disease in Newborns was published June 25 online and appears in the July 2019 issue of Obstetrics & Gynecology.
"ACOG is excited to release its revised guidance, which includes an updated recommendation to now perform routine screening for Group B Streptococcus between 36 0/7 and 37 6/7 weeks of gestation. This new antepartum screening timing, along with the other updated recommendations, will continue to guide ob-gyns and other obstetric providers in the prevention of Group B Streptococcus transmission to newborns, a shared goal between ob-gyns and pediatricians," said Ted L. Anderson, MD, PhD, president of ACOG.
"We hope that by working together to update these important recommendations, ACOG and AAP will further reduce infection among newborns, helping more babies have a healthy start to their lives."
Both groups support universal maternal screening and when appropriate, antibiotics to prevent transmission of Group B streptococcal bacteria from mother to infant before or during delivery. Since these recommendations were first introduced in 1990, the national incidence of early-onset Group B streptococcal disease has declined from 1.8 cases per 1,000 live births to 0.23 cases per 1,000 live births in 2015.
The AAP recommendations for infant care include:


Administering antibiotic during childbirth, when indicated and as recommended by the American College of Obstetricians and Gynecologists, to protect the newborn from the transmission of Group B streptococcal bacteria.


In evaluating the risk of GBS infection in the newborn, give separate consideration to infants born at ≥35 0/7 weeks gestation and those born at ≤34 6/7 weeks gestation. Infants born at 34 6/7 weeks gestation are preterm and are at highest risk for early-onset sepsis, including Group B streptococcal disease.


Early-onset Group B streptococcal infection should be diagnosed by blood or cerebrospinal fluid culture.


Evaluation for late-onset Group B streptococcal disease, which is associated with preterm birth, should be based on clinical signs of illness.


Updated dosing recommendations for treatment of neonatal and infant Group B streptococcal disease. The preferred antibiotic for confirmed GBS disease in infants is penicillin G, followed by ampicillin.


"Group B strep bacteria exist in many of us without a problem, and a healthy pregnant woman might be colonized without feeling sick or showing any symptoms of illness," said Ruth Lynfield, MD, FAAP, member of the AAP Committee on Infectious Diseases and co-author of the report. "But for infants who become infected, it can be very dangerous, even deadly when it leads to sepsis, meningitis, or pneumonia."
Early-onset of Group B streptococcus disease occurs within the first six days after birth life and is more common – and often lethal- among preterm infants. There remains no effective approach for preventing late-onset disease, which usually occurs between seven and 89 days of age, according to the AAP.
About 20% to 30% of U.S. pregnant women carry the bacteria in their gastrointestinal or genital tract, which can be transmitted to the infant shortly before or during delivery. About half of the babies born to women with Group B Strep bacteria who have not been treated with antibiotics will pick up the bacteria, which leads to an invasive infection in about 1%-2% of them.
Experts acknowledge that questions remain about the longer-term health impacts of antibiotics when administered during birth since the treatment impacts the newborn gut microbiota, which develops and diversifies through early childhood.
"We hope to identify more ways to prevent these infections, such as a vaccine that could be used worldwide," Dr. Puopolo said. "These guidelines are the most effective tool we have right now to protect infants and save lives."
For more details click on the link:
www.aap.org