AAP releases latest guidelines for retinopathy of prematurity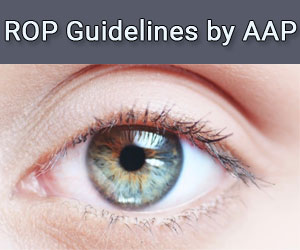 American Academy of Pediatrics (AAP) has released new screening guidelines for Retinopathy of prematurity (ROP) in preterm infants.
ROP is a disorder in the development of retinal blood vessels in preterm infants. it is a major cause of blindness in childhood leading to a lifelong disability.
The updated version of the guideline still recommends retinal screening examinations using binocular indirect ophthalmoscopy for infants with a birth weight of 1500 g or less or a gestational age of 30 weeks or less, and also for certain at-risk infants with a birth weight from 1500 g to 2000 g which is similar to the previous guideline.
Use of remote photographic screening for ROP instead of binocular indirect ophthalmoscope examination before the treatment is indicated as an important addition in the new guideline.
Other clinical practices recommended by the American Academy of Pediatrics for the screening of Retinopathy of prematurity in preterm infants include:


Binocular indirect ophthalmoscopy after pupillary dilation should be used to detect ROP




Perform indirect ophthalmoscopy before treatment or termination of acute-phase screening for at-risk infants.


Intravitreal injection of anti-vascular endothelial growth factor (VEGF) agents (eg, bevacizumab injection) may be used as a treatment for aggressive posterior ROP.


Longer follow-up should be employed after anti-VEGF treatment since it is often associated with a later recurrence of ROP when compared to conventional laser peripheral retinal ablative treatment.


Specific unit criteria for the management of ROP should be established for each NICU in agreement with both neonatology and ophthalmology services.


Ophthalmologic follow-up and transition of care should be arranged before the infant is discharged, including the follow-up eye-examinations necessary and the schedule for these examinations.


Follow-up within 4 to 6 months after discharge is necessary since infants with a history of ROP are at an increased risk for developing other visual disorders, such as strabismus, amblyopia, high refractive errors, cataracts, and glaucoma.


For more details click on the link: http://www.aappublications.org/news/2018/11/26/retinopathy112618