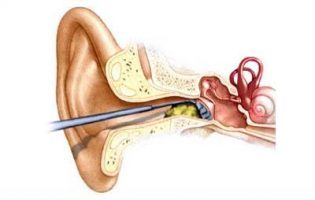 The American Academy of Otolaryngology-Head and Neck Surgery Foundation has released updated "Clinical Practice Guideline: Otitis Media with Effusion."The Update of Guideline has been published in Journal of  Otolaryngology-Head and Neck Surgery.  This clinical practice guideline is an update and replacement for a guideline co-developed in 2004 by the American Academy of Otolaryngology-Head and Neck Surgery Foundation (AAO-HNSF), the American Academy of Pediatrics (AAP), and the American Academy of Family Physicians (AAFP).An update was necessitated by new primary studies and systematic reviews that might suggest a need for modifying clinically important recommendations.The 18 recommendations developed emphasize diagnostic accuracy, identification of children who are most susceptible to developmental sequelae from otitis media with effusion, and education of clinicians and patients regarding the favorable natural history of most otitis media with effusion and the lack of efficacy for medical therapy (eg, steroids, antihistamines, decongestants).
 Differences from Prior Guideline
The changes in content and methodology from the prior guideline include the following:
Addition of consumer advocates to the guideline development group
New evidence from 4 clinical practice guidelines, 20 systematic reviews, and 49 randomized controlled trials (RCTs)
Emphasis on patient education and shared decision making with an optional grid for surgery and new tables of counseling opportunities and frequently asked questions
Expanded action statement profiles to explicitly state quality improvement opportunities, confidence in the evidence, intentional vagueness, and differences of opinion
Enhanced external review process to include public comment and journal peer review
Additional information on pneumatic otoscopy and tympanometry to improve diagnostic certainty for otitis media with effusion (OME)
Expanded information on speech and language assessment for children with OME
New recommendations for managing OME in children who fail a newborn hearing screen, evaluating at-risk children for OME, and educating and counseling parents
A new recommendation against using topical intranasal steroids for treating OME
A new recommendation against adenoidectomy for a primary indication of OME in children <4 years old, including those with prior tympanostomy tubes, unless a distinct indication exists (nasal obstruction, chronic adenoiditis)
A new recommendation for assessing OME outcomes by documenting OME resolution, improved hearing, or improved quality of life (QOL)
A new algorithm to clarify decision making and action statement relationships
For further reference log on to : https://doi.org/10.1177/0194599815624407
The following two tabs change content below.
Dr. Kamal Kant Kohli
A Medical practitioner with a flair for writing medical articles, Dr Kamal Kant Kohli joined Medical Dialogues as an Editor-in-Chief for the Speciality Medical Dialogues. Before Joining Medical Dialogues, he has served as the Hony. Secretary of the Delhi Medical Association as well as the chairman of Anti-Quackery Committee in Delhi and worked with other Medical Councils of India. Email: drkohli@medicaldialogues.in. Contact no. 011-43720751
Latest posts by Dr. Kamal Kant Kohli (see all)