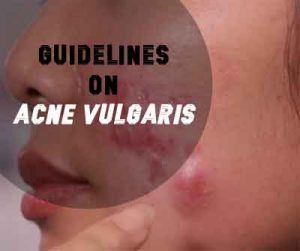 Acne is the most common skin condition in the United States, affecting up to 50 million people every year. Fortunately for these patients, there are several treatment options available to help them manage their condition, as outlined in the American Academy of Dermatology's new "Guidelines of care for the management of acne vulgaris." Published online in the Journal of the American Academy of Dermatology, the evidence-based guidelines cover acne treatment recommendations for both adolescents and adults.
Major Recommendations :
The guideline recommends that topical therapy be used along with antibiotics for the treatment of moderate to severe acne.
Once a course of antibiotics is complete, patients should continue using topical treatments to manage their condition.
Topical medications, such as retinoids and benzoyl peroxide, also may be combined with one another to create an effective treatment regimen.
Additionally, some female patients may see their acne improve with the use of oral contraceptives, which can be combined with other treatments.
For severe acne or moderate acne that does not respond to other therapy, the guidelines recommend oral isotretinoin. Since this medication carries a high risk of birth defects, females must take careful steps to prevent pregnancy while on isotretinoin, and all patients who take the drug must enroll in the federal iPledge program. While some studies have suggested a connection between oral isotretinoin and inflammatory bowel disease or depressive symptoms, the evidence is not conclusive; however, patients should be aware of these risks and carefully follow their doctor's treatment advice.
The guidelines do not recommend procedures like laser treatments or chemical peels for routine acne treatment.
The guidelines also indicate that there is not enough evidence to recommend treating acne with alternative therapies like tea tree oil.
According to the guidelines,  there is not enough data to recommend dietary changes for acne patients.
TREATMENT OPTIONS –
Topical Treatments:
Benzoyl peroxide or combinations with erythromycin or clindamycin are effective acne treatments and are recommended as monotherapy for mild acne.
Benzoyl peroxide or combinations with erythromycin or clindamycin in conjunction with a topical retinoid, or systemic antibiotic therapy are recommended for moderate to severe acne.
Benzoyl peroxide is effective in the prevention of bacterial resistance and is recommended for patients on topical or systemic antibiotic therapy.
Topical antibiotics (eg, erythromycin and clindamycin) are not recommended as monotherapy because of the risk of bacterial resistance.
Topical retinoids are recommended as monotherapy in primarily comedonal acne, or in combination with topical or oral antimicrobials in patients with mixed or primarily inflammatory acne lesions.
Topical adapalene, tretinoin, and benzoyl peroxide are useful for management of preadolescent acne in children.
Azelaic acid is recommended in the treatment of postinflammatory dyspigmentation.
Topical dapsone 5% gel is useful for inflammatory acne, particularly in adult females with acne.
Systemic antibiotics
Monotherapy with systemic antibiotics is not recommended.
Systemic antibiotics are recommended for management of moderate and severe acne that are resistant to topical treatments.
Doxycycline or minocycline are more effective than tetracycline.
Use of Oral erythromycin and azithromycin should be limited to those who cannot use the tetracyclines ( pregnant women or children \8 years of age).
Use of Systemic antibiotics  should be limited to the shortest possible duration. It should be evaluated every  3-4 months to minimize the development of bacterial resistance.
Concomitant topical therapy with benzoyl peroxide or a retinoid should be used with systemic antibiotics and for maintenance after completion of systemic antibiotic therapy.
Hormonal agents
In the treatment of inflammatory acne in females, estrogen-containing combined oral contraceptives are  recommended .
Spironolactone is useful in the treatment of acne in select females.
Low-dose oral corticosteroids are recommended in treatment of acne in patients with well documented adrenal hyperandrogenism .
Isotretinoin
Oral isotretinoin is recommended for the treatment of severe nodular acne.
Oral isotretinoin is appropriate for the treatment of moderate acne that is treatment-resistant or for the management of acne that is producing physical scarring or psychosocial distress.
Low-dose isotretinoin can be used to effectively treat acne and reduce the frequency and severity of medication-related side effects. Intermittent dosing of isotretinoin is not recommended.
Routine monitoring of liver function tests, serum cholesterol, and triglycerides at baseline and again until response to treatment is established is recommended. Routine monitoring of complete blood count is not recommended.
All patients treated with isotretinoin must adhere to the iPLEDGE risk management program.
Females of child-bearing potential taking isotretinoin should be counseled regarding various contraceptive methods including user-independent forms.
Prescribing physicians also should monitor their patients for any indication of inflammatory bowel disease and depressive symptoms and educate their patients about the potential risks with isotretinoin.
Miscellaneous therapies
Intra lesional corticosteroid injections are effective in the treatment of individual acne nodules.
Physical modalities including pulsed dye laser, glycolic acid peels, and salicylic acid peels not recmmended for  the routine treatment of acne,.
Alternative therapies
There is limited data to support Herbal and alternative therapies  to treat acne.
There is no role of diet in acne and therefore no specific dietary changes are recommended in the management of acne.Although some data suggests that high glycemic index diets may be associated with acne but   dairy products particularly skimmed  milk  may not influence acne.
For further reference log on to :
https://www.aad.org/practicecenter/quality/clinical-guidelines/acne