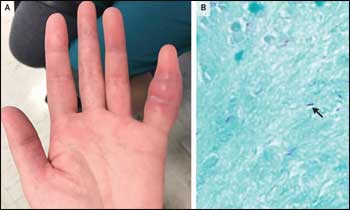 Jennifer Mandal and Mary Margaretten, from University of California, San Francisco, California present the unique case of a 42-year-old woman presented with a 1-week history of swelling and pain in the fifth finger of her left hand. The patient's further investigation revealed that she had developed the infection of the finger from her husband who was diagnosed with active pulmonary tuberculosis.
Tuberculous dactylitis is a rare musculoskeletal infection. The diagnosis is often delayed because of unfamiliarity with the condition. Tuberculous dactylitis accounts for 4% to 8% of skeletal tuberculosis. It is relatively common in children aged between 1 and 6 years and in adults between the ages of 20 and 50. It is rare in children over 10 years of age. It is three times more common in men than in women.
The patient had reported no related trauma. She had systemic lupus erythematosus and was being treated with mycophenolate mofetil and prednisone. Physical examination of the affected finger revealed soft-tissue swelling, with erythema and warmth, that was most prominent between the proximal and distal interphalangeal joints, sparing the fingertip.
Courtesy: NEJM
Radiography and magnetic resonance imaging revealed swelling of soft tissue but no bony abnormalities. Examination of a biopsy specimen of the deep dermis after Fite staining revealed numerous acid-fast bacilli. The culture of a tissue sample grew Mycobacterium tuberculosis. Findings on radiography of the chest were normal. The patient had undergone a purified protein derivative skin test before starting immunosuppressive therapy; the result was negative.
Further investigation revealed that the patient's husband, who had recently travelled to China, had a cough that developed soon after his return home. He subsequently received a diagnosis of active pulmonary tuberculosis. Although infection of the finger is a rare extrapulmonary manifestation of tuberculosis, it is an important consideration in immunosuppressed patients.
This patient was treated with a four-drug antituberculosis regimen for a total of 9 months and had complete resolution of her symptoms.

The differential diagnosis of Tuberculous dactylitis includes congenital syphilis, enchondroma, pyogenic osteomyelitis, sarcoma, sarcoidosis, Paget's disease and other granulomatous infections. Tuberculous dactylitis tends to present in an older age group, whereas congenital syphilis is apparent in the first years of life, bilaterally symmetrical and not associated with soft tissue swelling or sequestration.
The case has been published in The New England Journal of Medicine.
For further reference follow the link: 10.1056/NEJMicm1800879