................................ Advertisement ................................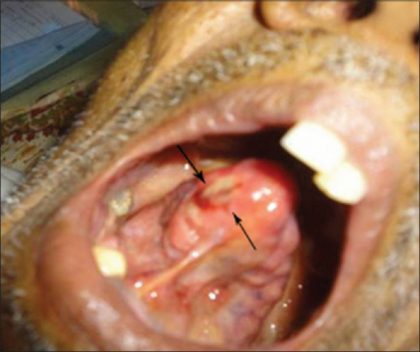 EN Abdul Latheef at Department of Dermatology, Venereology, Leprosy, Government Medical College, Kozhikode, Kerala, India, and assso0ciates have reported a rare case of  Squamous cell carcinoma on a syphilitic gumma that has appeared in Indian Journal of Sexually Transmitted Diseases and AIDS. Gumma is a characteristic lesion of tertiary syphilis that is rare nowadays, but still rarer is squamous cell carcinoma (SCC) arising from it.
According to case history, a 74-year-old male presented with throat pain and nasal twang with a past history of genital ulcer. Examination revealed a well-defined ulcer with a perforation of 1.5 cm over the hard palate with induration and modularity at the margins. This patient also had leukoplakia over the ventral aspect of the tongue. His treponema pallidum hemagglutination assay was positive, and biopsy revealed well-differentiated SCC from the lesion over the palate and leukoplakia with dysplasia from the lesion over the tongue. The patient is on treatment from radiotherapy. To conclude, this is a unique presentation of syphilitic gumma with palatal perforation with SCC and syphilitic leukoplakia with Ca in situ over the tongue. Thus, serology for syphilis should be done in all patients with SCC of the oral cavity.
A 74-year-old man presented to our department with a history of nasal twang and nasal regurgitation since many years. He also had a swelling over the palate that ulcerated since 1 month. He gives a history of penile ulcer at the age of 18 following a premarital exposure. On examination, there was a white patch of 1 cm × 1 cm over the ventral aspect of the tongue. There was also a perforation of 1.5 cm × 1 cm over the hard palate with induration and sloughing at the margins. An atrophic scar of 2 cm × 2 cm was present over the prepuce. There was a firm to hard cervical lymphadenopathy. Neurological evaluation revealed features suggestive of bilateral pyramidal signs. His erythrocyte sedimentation rate was raised, venereal disease research laboratory (VDRL) was 1:1 and Treponema pallidum hemagglutination assay was positive.
................................ Advertisement ................................
His cerebrospinal fluid VDRL and HIV were negative. Biopsy from palatal lesion showed squamous cells with nuclear hyperchromasia and high mitotic index extending beyond the basement membrane. Epithelial pearl/keratin whorl/malignant pearl was seen as concentric squames of keratin within an epithelial island. There was also areas of necrosis with surrounding lymphocytic infiltrate. Biopsy from the leukoplakia of the tongue showed marked epithelial dysplasia with an intact basement membrane. There was cellular atypia with hyperchromatic nuclei. A patient was treated with doxycycline twice a day for 28 days and was referred to surgery and radiotherapy for further management.
................................ Advertisement ................................
For more details click on the link: 10.4103/0253-7184.156745
Hina Zahid Joined Medical Dialogue in 2017 with a passion to work as a Reporter. She coordinates with various national and international journals and association and covers all the stories related to Medical guidelines, Medical Journals, rare medical surgeries as well as all the updates in the medical field. Email: hina@medicaldialogues.in. Contact no. 011-43720751
To know about our editorial team click here
................................ Advertisement ................................