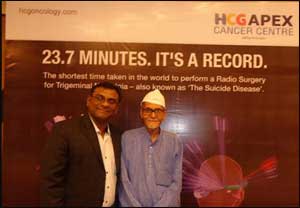 HCG Apex Cancer Centre organised a press conference along with a specialised radiation oncologist to showcase the successful treatment of an 83-year old patient suffering from Trigeminal Neuralgia with the help of technology and expertise, in 23. 7 minutes, the shortest time recorded in India.
Trigeminal Neuralgia also has known as 'The Suicide Disease' is a chronic pain condition that affects the trigeminal or 5th cranial nerve, one of the most widely distributed nerves in the head.
Trigeminal Neuralgia (TN) can be caused by blood vessel pressing on the trigeminal nerve or can also occur in people with multiple sclerosis. Injury to the trigeminal nerve (perhaps the result of sinus surgery, oral surgery, stroke, or facial trauma) may also produce neuropathic facial pain.
The pain of Trigeminal Neuralgia (TN) may range from a sudden, severe, and stabbing to a more constant, aching, burning sensation. The pain may affect a small area of the face or may spread. The attacks often worsen over time, with fewer and shorter pain-free periods before they recur. Eventually, the pain-free intervals disappear and medication to control the pain becomes less effective.
Present at the conference was Ibrahim Khan, who was treated in record time, is an 83-year old gentleman from Nashik, who was suffering from Trigeminal Neuralgia for the last 15 years.
While he failed over other therapies, which included radiofrequency ablation 5 years back, the only solution which could give a lasting pain relief was stereotactic Radiosurgery.
Also present, Dr. Shankar Vangipuram, HOD, Radiation Oncology – HCG Apex Cancer Centre, who treated Ibrahim Khan, said, "Following his medical history and the treatments he had undergone in the span of 15 years, we decided to opt for Radiosurgery. Radiosurgery is surgery using radiation i.e. destruction of the precisely selected areas of the tissues using ionising radiation rather than excision with blade. Being a knifeless non-invasive procedure (treatment with patient in senses) with sub-mm precision means there is no need for anaesthesia, no need for blood transfusions and no risk for any infections."
"Conventionally, a condition like this can be treated using several platforms using X-Knife, Cyberknife, or Gamma knife that typically takes about 25-90mts to deliver the treatment. In a path-breaking achievement in treating Trigeminal Neuralgia, with the right mix of advanced FFF technology and Robotics Dr. Shankar and his team successfully delivered the treatment in just 23.7 minutes, which is recorded to be the shortest duration to treat a condition of TN. The patient is back to his routine life with no symptoms of recurrence or side effects and with medications totally stopped," he added.
The patient, Ibrahim Khan said, "At the age of 68, it was the worst pain I ever experienced which deteriorated from bad to worse which lasted from seconds to several minutes, with increase in recurrence. I underwent neurological treatments with side effects like vomiting, dizziness, drowsiness, loss of balance, swollen tongue with passing days. Finally, unable to bear the persistent severe pain I approached HCG, where with the help of radiosurgery and expertise of Dr. Shankar, I was treated with no side effects. Today I am able to lead my routine life, performing the daily chores with ease."
There are several neurosurgical procedures available for the treatment of Trigeminal Neuralgia, depending on the nature of the pain, the individual's preference, physical health, blood pressure, and previous surgeries, presence of multiple sclerosis and the distribution of trigeminal nerve involvement.