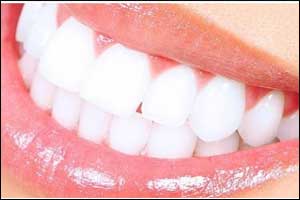 Perfect pearly white teeth are a necessity in this age of selfies, not only it makes you look good but also reflects your dental hygiene. Many treatments for teeth whitening are available in the market but they end up harming your teeth. According to a new article published in the journal ACS Biomaterials Science & Engineering, the researchers have developed a new method for teeth-whitening which is safe, effective, and less harmful as compared to currently available non-invasive whitening treatments that bleach the teeth. In addition, the new treatment also showed antibacterial activity against certain bacteria.
Discoloration of teeth on the outer surface occurs due to the consumption of colored drinks and foods such as red wine, tea or coffee. Many people opt for non-invasive whitening treatments that result in bleaching of teeth.
Hydrogen peroxide is the most commonly used bleaching agent which captures electrons from the pigment molecules resulting in teeth discoloration, this process can be expedited by exposing teeth to blue light. High concentrations of hydrogen peroxide, however, can break down the enamel of the teeth, causing cell death or sensitivity.
Xiaolei Wang, Institute of Translational Medicine, Nanchang University, Nanchang, Jiangxi, China, and colleagues desired to see if a different blue-light-activated compound could be a safer, but still effective, alternative method for teeth-whitening as compared to non-invasive treatments. 
Read Also: Adhesives developed to prevent bracket stains on teeth
The investigators modified the nanoparticles of titanium dioxide with polydopamine (nano-TiO2@PDA) enabling their activation by blue light.  The nano-TiO2@PDA particles were evenly coated on the surface of a tooth and then exposed to blue light, in a proof-of-concept experiment.
Key Findings:
After four hours of the experiment, the team found that the whitening level obtained was similar to that obtained with hydrogen-peroxide-based agents.
No significant enamel damage was found on the surface of the tooth, and the treatment was significantly less cytotoxic than hydrogen peroxide.
The nano-TiO2@PDA therapy showed antibacterial activity against certain bacteria.
For further information log on to 10.1021/acsbiomaterials.8b00548