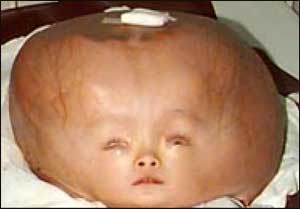 In a major breakthrough, a new device invented by USC researchers could significantly improve care for people with hydrocephalus, a chronic condition that causes excessive cerebrospinal fluid (CSF) in the brain.
Hydrocephalus is caused due to excessive accumulation of cerebrospinal fluid in the ventricular system of the brain, which increases the pressure inside the brain. It may be inborn and may occur in one or two per 1,000 live births. Headaches and vomiting are signs of increased intracranial pressure and if left untreated, can cause brain damage or death.
The credit goes to the  Ellis Meng and Tuan Hoang who created a device that could guide the doctors about problems with the shunts, in real time.
In patients with hydrocephalus, doctors impact shunts, a type of tube that acts as plumbing to drain excess cerebrospinal fluid from the brain into the patient's stomach, where it is reabsorbed. It may sometimes happen that shunts develop problems and it is very tedious to detect hydrocephalus shunt failure before it causes a patient to suffer.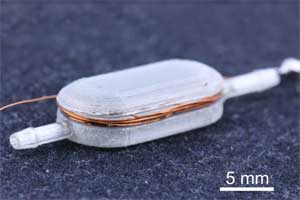 A prototype of the implantable device that provides micro-sensing technology for hydrocephalus shunts. Credit: Alex Baldwin
The team developed a suite of sensors to measure three different parameters in the shunt: pressure, flow, and blockage—all of which could alert a clinician prior to shunt failure and work is ongoing to make the pressure sensor more accurate and up to physician standards.
"Neurosurgeons mentioned that their greatest 'pain' was the diagnosis of hydrocephalus shunt failure, which is inevitable," Hoang said. "Patient care could be greatly improved while minimizing patient suffering if only there was a fast, reliable and affordable method for timely assessment to guide clinical intervention."
"To make matters worse, shunts get clogged all the time, often going undiagnosed until patients are in an extreme amount of pain from the abnormal cerebrospinal fluid buildup, said Alex Baldwin, a biomedical engineering Ph.D. student and Senseer's chief technical officer."
"As many as 50 percents of shunts clog in their first year of the implant, Baldwin said. "And after a decade, 80 to 90 percent of shunts have failed. These patients are almost guaranteed to need at least one shunt revision or more in their lifetime. What's more is the significant delay and expense patients incur to diagnose if their shunt has failed and differentiate it from other ailments with the same symptoms, like the flu and the current process can take multiple brain scans over a period of months and an invasive procedure called a "shunt tap," he added.
Besides children, hydrocephalus also may affect adults age 60 and older. This condition is called normal-pressure hydrocephalus. Senseer's multi-sensor technology could be used in both the groups.
The Senseer team has completed prototypes for all of the sensor technologies. A clinical study is underway that uses two sensors in an external ventricular drain, which is a short-term shunt for trauma patients that drains fluid outside the body so it can be discarded. The next steps are to package the sensors in an implantable form and manufacture the wireless devices to work toward human trials.
The researchers hope that they can provide doctors with data on when the shunts fail and that some of this data will be useful in designing shunts that don't fail at all in the future."
For reference log on to
https://news.usc.edu/140955/a-smarter-device-to-treat-pediatric-hydrocephalus-may-ease-parents-worry/