A single-dose oral vaccine for cholera control : Lancet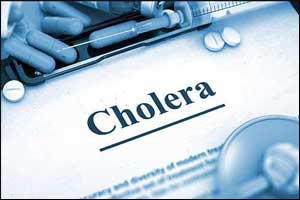 Diarrhoeal diseases are a major source of preventable morbidity and mortality, and in 2015 claimed the lives of more than 1·3 million people, of whom 499 000 were children younger than 5 years.As a contributor to the global burden of diarrhoeal disease, Vibrio cholera is a particularly harsh pathogen, causing rapid onset of severe nausea, vomiting, and profuse watery diarrhoea that can lead to death within hours—even of the healthiest young adults
A single-dose regimen of inactivated whole-cell oral cholera vaccine (OCV) is attractive because it reduces logistical challenges for vaccination and could enable more people to be vaccinated. Efficacy of a single dose of an OCV vaccine during the 6 months following dosing has been reported previously. Dr.Firdausi Qadri and associates have conducted a placebo-controlled, double-blind randomised Trial at Dhaka and found that a single dose provided protection for at least 2 years when given to adults (vaccine protective efficacy against all cholera episodes 59%, 95% CI 42–71) and to children aged 5 years or older (52%, 8–75).The study has been published in The Lancet Infectious Diseases.
In the study individuals aged 1 year or older with no history of receipt of OCV were randomly assigned to receive a single dose of inactivated OCV or oral placebo.The primary endpoint was a confirmed episode of non-bloody diarrhoea for which the onset was at least 7 days after dosing and a faecal culture was positive for Vibrio cholera O1 or O139. The researchers assessed the protective efficacy of the OCV against culture-confirmed cholera occurring 7–730 days after dosing with both crude and multivariable per-protocol analyses.
The researchers found that a single dose of the inactivated whole-cell OCV offered protection to older children and adults that was sustained for at least 2 years. The absence of protection of young children might reflect a lesser degree of pre-existing natural immunity in this age group. Further studies are needed to determine how best to protect the youngest individuals, and to identify the ideal dosing schedule of the vaccine.
Reference,
DOI:
https://doi.org/10.1016/S1473-3099(18)30108-7