A rare case of septic pulmonary emboli presenting as bilateral pneumothorax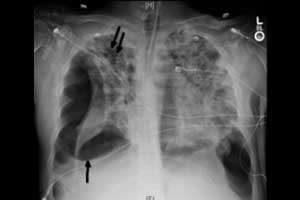 Right-sided infective endocarditis is a classic complication of intravenous drug abuse. Without timely bactericidal antibiotics, the disease process can progress to septic pulmonary emboli.
Rarely, a pneumothorax can occur as a result of the emboli, and progressive persistent valvular disease may require a valve replacement. Tricuspid valve replacement has a high morbidity rate even in stable patients.
Published in the American Journal of Case Reports, the authors present a case of tricuspid valve replacement in a 39-year-old man with peripheral intravenous drug abuse who had bilateral pneumothoraces secondary to septic pulmonary emboli originating on large tricuspid valve infected vegetations. The patient died 21 days after the valve replacement.
Learning Points:-
Tricuspid valve replacement is an especially dangerous procedure in intravenous drug abusers who present with bilateral pneumothoraces and advanced cardiopulmonary pathology.
For more details click on the link:
DOI: 10.12659/AJCR.910371