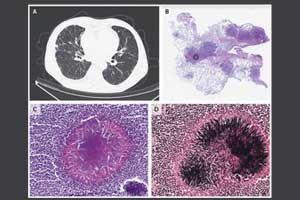 Dr Yan Xu at Peking Union Medical College Hospital, Beijing, China   and colleagues have reported a case of Disseminated Actinomycosis that has appeared in NEJM.
Actinomycosis is a chronic infection caused by organisms in the genus Actinomyces, with Actinomyces israelii being the most common etiologic agent .It is a rare infection caused by anaerobic or microaerophilic Gram-positive bacilli belonging to the genus Actinomyces . The Actinomyces spp. are commensal organisms that make up the normal flora of the oropharynx, skin, gastrointestinal tract, and the female genital tract of humans . Consequently, infection with actinomycetes commonly involves cervicofacial, thoracic, and abdominopelvic sites .
In the present case a 58-year-old man presented to the outpatient pulmonary clinic with a productive cough and a history of weight loss of 10 kg in last  3 months. He gave history of being an active smoker and for the preceding 4 years had worked in a factory processing cotton. On examination the patient was found to be afebrile, and his breath sounds were normal on auscultation of the lungs.
Courtesy :NEJM
His computed tomography of the chest and abdomen revealed multiple pulmonary nodules associated with pericardial effusion, pleural effusions in both lungs, and multiple liver lesions. Biopsy of the lung was performed with the use of video-assisted thoracoscopic surgery. Multiple lesions containing sulfure granules characteristic of actinomycosis were observed along the bronchial vascular bundle.
Filamentous bacteria were highlighted on silver staining. The patient received a diagnosis of disseminated actinomycosis, an uncommon, slowly progressive bacterial infection caused by Actinomyces species that can be manifested in the formation of multiple abscesses and sulfur granules in infected tissue. The patient received a 4-week course of high-dose penicillin intravenously, which was followed by an extended course of oral amoxicillin.
Pulmonary infections as in this case are believed to occur due to aspiration of the organism from the oral cavity.
For more details click on the link: DOI: 10.1056/NEJMicm1802090