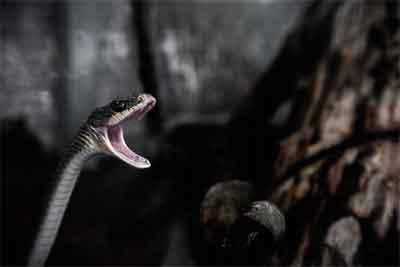 Manisha Meena, Department of Ophthalmology, King George Medical University, Lucknow, Uttar Pradesh, India, and colleagues present the case of a 45-year-old man presented with bilateral corneal melting following snakebite. Bilateral corneal melting is a very rare complication after a snakebite.
Snakebite is an environmental hazard associated with significant morbidity and mortality in the rural population of developing countries. Despite the scale of its effect on populations, snakebite has not received the attention it deserves from national and international health authorities and has been appropriately categorized as a 'neglected tropical disease. In India, an estimated 200,000 persons per year fall prey to snakebite, with an estimated fatality rate of 35,000-50,000 per year. South Asia is the world's most heavily affected region, due to high population density, widespread agricultural activities, numerous snake species and lack of functional snake bite control programs.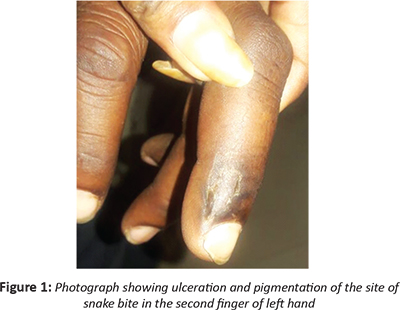 Isolated case reports describing ocular manifestations of snake bite have been reported in the literature. These include ophthalmoplegia, uveitis, glaucoma, central retinal artery occlusion, macular infraction, optic neuritis, vitreous hemorrhage, penetrating eye injury, globe necrosis, cortical infarction, and endogenous endophthalmitis. However, no reports of corneal complications such as corneal melting were found in the literature. The aim of this case report is to highlight the corneal complications after a snakebite.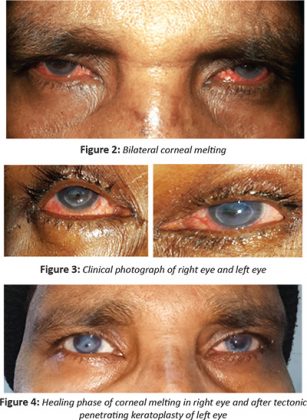 A 45-year-old male, farmer by occupation, had a history of snake bite 25 days back in the second finger of the left hand. After the bite, he tied his upper arm with vinyl cloth and was brought by his wife and daughter to the trauma center of our hospital. The patient also had a history of unconsciousness for 10 days after 24 hours of snakebite.
He was admitted in the intensive care unit of our hospital was referred to the ophthalmology unit. He was presented with complaints of inability to open both eyes, redness, watering, photophobia and whitish discoloration of clear central part of both eyes since 15 days.
On examination, the patient had blepharospasm and limb weakness. He was unable to walk, walk with the support of another person. His visual acuity in both eyes was finger counting close to face with accurate projection of rays in all quadrants. Anterior segment findings of both eyes showed mildly oedematous lids, marked conjunctival congestion, severe corneal thinning of the cornea with sloughing in the lower part 3mm × 3mm in size, a flat anterior chamber in the lower part and shallow AC in the upper part, and a cataractous lens. Corneal sensation was decreased in both eyes. Fundus examination was not possible. Ultrasound B scan done for posterior segment assessment showed no abnormality.
Topical antibiotics and cycloplegics after bandage contact lens (BCL) application was advised for both eyes and the patient was kept on close observation. Tectonic keratoplasty had to be done in the left eye at 2 weeks due to further worsening of the clinical condition. The medical records revealed finger swelling and black pigmentation near the bite mark. The patient had received the appropriate antivenom. His blood counts one day following the snakebite were: hemoglobin 14.2gram%, total white blood cells count 14,500/microliter, platelet count 2.6 lacs/ microliter, blood urea 18 milligram/ deciliter and serum creatinine 0.56 milligram/ deciliter. He was diagnosed as a suspected snake bite with neurotoxicity with corneal melting. The systemic condition of the patient had improved after the medical treatment.
Medha Baranwal joined Medical Dialogues as a Desk Editor in 2018 for Speciality Medical Dialogues. She covers several medical specialties including Cardiac Sciences, Dentistry, Diabetes and Endo, Diagnostics, ENT, Gastroenterology, Neurosciences, and Radiology. She has completed her Bachelors in Biomedical Sciences from DU and then pursued Masters in Biotechnology from Amity University.
She can be contacted at medha@medicaldialogues.in.
Contact no. 011-43720751