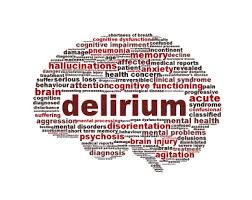 A case of Acute Delirium Associated With Levofloxacin has been reported by Dr.Yana Kogan at the Department of Internal Medicine A, Bnai Zion Medical Center, Technion – Israel Institute of Technology and colleagues .it has been published in Journal of Clinical Medicine Research.
According to history, a  79-year-old woman was admitted to the hospital for right lower lobe pneumonia accompanied by fever, non-productive cough and dyspnea for the last 3 days.She also had  essential hypertension and hypercholesterolemia, for the last several years, which was well controlled by ramipril and simvastatin; and she was repotedly allergic to penicillin. She had no history of dementia,delrium or any other documented disorder of the central nervous system (CNS).
Her general physical examination revealed a fully conscious and oriented woman, with normal informed bedside examination of her cognitive state. Her blood pressure was 136/80 mm Hg, heart rate of 104 bpm, and body temperature of 38.4 °C. No signs of meningeal irritation were observed. The examination of the respiratory System revealed fine inspiratory rales and decreased ventilation over the base of the right lung, as well as, diffuse bilateral rhonchi. Laboratory examinations revealed white blood cell count (WBC) of 24,200/mm3 with 84% neutrophils, hematocrit 39%, serum creatinine 0.9 mg/dL, urea 40 mg/dL sodium 138 mEq/L, potassium 4.3 mEq/L, C-reactive protein (CRP) 96 mg/L, arterial blood O2 saturation 90% on room air, and pCO2 41 mm Hg. The cheat X-ray film demonstrated a right lower lobe infiltrate.
She was started on Empiric treatment with oral levofloxacin, 750 mg daily. After Forty-eight hours the patient felt better, her body temperature decreased back to normal range, the heart rate and blood pressure were in the normal range, arterial blood O2 saturation increased to 96% on room air, WBC decreased to 15,100/mm3 and serum CRP level decreased to 24 mg/L. On the third day of hospitalization the patient became confused, irritable, and disoriented to time, place, and person. She had optic and acoustic hallucinations, and her attention capacity became impaired. The patient body temperature, heart rate and blood pressure were in the normal range, no dyspnea was observed, and her arterial blood O2 saturation was 97% on room air. Neurological examination revealed no signs of meningeal irritation and no lateralizing motor findings. Serum levels of electrolytes, including sodium, potassium, magnesium, and calcium were normal. Computerized tomography (CT) scan of the brain, and electroencephalogram (EEG) performed while the patient was awake, were unremarkable.
The diagnosis of delirium was made according to the American Psychiatric Association's Diagnostic and Statistical Manual Mental Disorders (DMS IV); and was related to levofloxacin. After that treatment with levofloxacin was stopped immediately, and treatment with azithromycin was started. Subsequently, the patient neurological condition gradually improved, and complete resolution of the delirium was documented 48 h after discontinuation of levofloxacin treatment. Upon discharge from our medical ward, she was referred to our outpatient medical clinic. Three weeks later a repeat chest X-ray film showed complete resolution of the pulmonary infiltrate, and informed bedside examination of her cognitive state was normal.
Drug-induced delirium is a well-known entity with sedatives, narcotics and anticholinergics most often implicated in its causation. Delirium attributed to antibiotics, mainly cephalosporins and macrolides, has been infrequently reported, and until yet only seven cases of levofloxacin-induced delirium have been described in the medical literature.
The present case will certainly raise the awareness of physicians to this serious, underestimated, and underdiagnosed adverse effect of a commonly used antibiotic, levofloxacin.
For further reference log on to :

doi: https://doi.org/10.14740/jocmr3538w