A Paradox - Case of asthma worsening with asthma drugs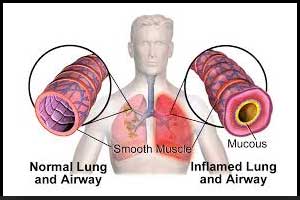 Dr Jared S. Magee at Department of Medicine, Madigan Army Medical Center, Joint Base Lewis-McChord, USA and colleagues have reported an unusual case of asthma worsening or exacerbation with asthma drugs.
Paradoxical bronchoconstriction is an underrecognized adverse event that can occur with administration of β2-agonist-containing inhaler formulations, reports a case which appeared in the American Journal of Case Reports showcasing a 25-year-old asthmatic patient.
Asthma is a common disease. Initial therapy in the stepwise approach for asthma management is short-acting β₂-agonist (SABA) therapy as needed for symptom control. However, a significant adverse event that can occur with the administration is bronchospasm.
The case describes a 25-year-old, non-smoking, African American male with a history of moderate asthma and allergic rhinitis treated with fluticasone/salmeterol Diskus, albuterol hydrofluoroalkane (HFA) inhaler, and montelukast who was brought to the clinic complaining of recurrent episodes of acute shortness of breath immediately following each administration of albuterol for 4 weeks.
Read Also: Children without allergies can still be afflicted with asthma-like coughing and wheezing
"His FVC was unchanged before and after bronchodilator administration at 4.85 L (104% predicted)," the study authors reported. They added, "However, his FEV1 increased from 2.47 L (62% predicted) to 2.73 L (69% predicted) after 4 puffs of ipratropium bromide were administered.".
PFTs were performed with levalbuterol (Xopenex) and albuterol (ProAir), yielding a significant decrease in forced expiratory volume in 1 second (FEV1) and forced vital capacity (FVC). Nebulized albuterol and ipratropium bromide also improved FEV1 and FVC. He was successfully transitioned to an ipratropium rescue inhaler for asthma exacerbations.
The patient's albuterol HFA prescription was discontinued, and he was instructed to use an ipratropium HFA as needed for a rescue inhaler with the continuation of his increased dose of fluticasone/salmeterol HFA daily. There were no reported symptoms after the transition of therapy.
Read Also: Bronchial Asthma – Standard Treatment Guidelines
Paradoxical bronchoconstriction is the unexpected constriction of smooth muscle walls of the bronchi that occurs in the setting of an expected bronchodilatory response. This phenomenon has been observed with β₂-agonist-containing inhaler formulations and is an under-recognized adverse event.
The authors concluded that clinicians should be aware of paradoxical bronchospasm as an adverse effect with common inhaler formulations containing β₂-agonists and counsel patients accordingly in the appropriate clinical setting.
For full information log on to https://www.amjcaserep.com/abstract/index/idArt/910888
Source : With inputs from American Journal of Case Reports