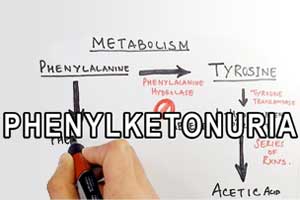 The US Food and Drug Administration has granted approval to Palynziq (pegvaliase-pqpz) injection for adults with a rare and serious genetic disease known as phenylketonuria (PKU). Palynziq is a novel enzyme therapy for adult PKU patients who have uncontrolled blood Phe >600 µmol/L concentrations on current treatment.
Phenylketonuria (commonly known as PKU) is an inherited disorder that increases the levels of a substance called phenylalanine in the blood. Phenylalanine is a building block of proteins (an amino acid) that is obtained through the diet. If PKU is not treated, phenylalanine can build up to harmful levels in the body, causing intellectual disability and other serious health problems.
Palynziq is a PEGylated phenylalanine ammonia lyase enzyme that converts phenylalanine to ammonia and trans-cinnamic acid. It substitutes for the deficient phenylalanine hydroxylase enzyme activity in patients with PKU and reduces blood phenylalanine concentrations. Treatment with Palynziq consists of induction, titration, and maintenance phases; periodic blood Phe monitoring is recommended.
"This is a novel enzyme substitution therapy that helps address a significant unmet need in PKU patients who have been unable to control their blood Phe levels with current treatment options," said Julie Beitz, M.D., director of the Office of Drug Evaluation III in FDA's Center for Drug Evaluation and Research. He added that the new approval demonstrates the commitment to approving advancements in treatment that will give patients living with PKU different options for care.
The approval was granted based on the two clinical trials done in adult patients with PKU with blood phenylalanine concentrations greater than 600 µmol/L. There was no restriction on diet in most PKU patients in the Palynziq trials prior to and during the trials. The first trial was a randomized, open-label trial in patients treated with increasing doses of Palynziq administered as a subcutaneous injection up to a target dose of either 20 mg once daily or 40 mg once daily. The second trial was an 8-week, placebo-controlled, randomized withdrawal trial in patients who were previously treated with Palynziq.
The study found that patients treated with Palynziq achieved statistically significant reductions in blood phenylalanine concentrations from their pre-treatment baseline blood Phe concentrations.
The most common adverse events reported in the Palynziq trials included injection site reactions, joint pain, hypersensitivity reactions, headache, generalized skin reactions lasting at least 14 days, pruritus (itchy skin), nausea, dizziness, abdominal pain, throat pain, fatigue, vomiting, cough, and diarrhea. Hypersensitivity reactions occurred in most patients, likely due to the formation of antibodies to the product.
The most serious adverse reaction in the Palynziq trials was anaphylaxis, which occurred most frequently during upward titration of the dose within the first year of treatment.
BioMarin Pharmaceutical Inc. got the FDA approval of Palynziq which is predicted to enter the market by the end of June 2018 as 2.5mg/0.5 mL, 10mg/0.5 mL, and 20mg/mL strength single-dose prefilled syringes.