A Medical Miracle :104 yr old lady operated successfully for hip fracture at USSH Hospital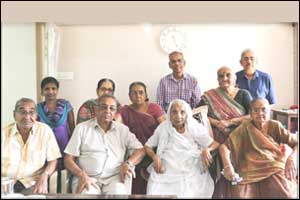 A Team of orthopedic surgeons led by Dr. Tejas Upasani, Orthopedic and joint replacement surgeon at Upasani Super Speciality Hospital in Mulund successfully performed a complex hip fracture on 104 year old patient from Mulund, Mrs. Ganga Lalji Gala who had acute pain and less movement due to age factor.
Mrs. Ganga Lalji Gala's movements slowed down gradually due to age factor. Resident of Mulund fell from her bed and got fractures in right side hip. She couldn't move and was suffering from acute pain. Immediately, her relatives took her to Upasani Super Specialty Hospital
After undergoing through diagnosis, Dr Tejas Upasani gave her a Ray of hope, she will be requiring some kind of support also the aim of surgery in these patients is to reduce their pain and allow them to atleast stir by the edge of bed and turn in the bed. He suggested Mrs. Gala to fix the fracture using less dosage of anesthesia. The surgery had to be affordable and also effective and we are sucessful in doing it the way it had to be.
Dr Tejas Upasani, Orthopedic and Joint Replacement surgeon, Upasani Super Specialty Hospital, says, "We were in dilemma to do a surgery after seeing her condition and age. She had suffered an intertrochanteric fracture, on the right side of hip so in this case it was better to do a surgery so that she could survive more. If surgery is avoided then they develop other complications like bed sores, chest infection, and urine infection."
"One year mortality with in an elderly patient with hip fracture is 30 to 40%. So it is better to operate the patient to increase the life span. We have started some exercises and bed side mobility after the surgery", Dr. Upasani added.
Patient's grandson, Mr Kirti Gala says, "It's the first time that my grandmother is admitted to a hospital. From the month of June 2017 her movements slowed down gradually due to age factor. And the conditioned worsened when she fell. We then took her to USSH and learned that she had suffered a fracture in the right hip. Our grandmother has now started sitting. We are grateful to Dr. Tejas Upasani, as he gave us the correct advice and a new lease of life to my grandmother. He has been was very cooperative and helpful."
Source : press release