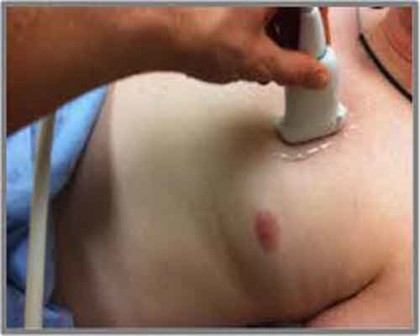 The concept of lung ultrasound is simple and used in 'point of care ultrasound' in ICU settings. Although it is common to use it in the diagnosis of pleural effusion and atelectasis, yet assessing "B lines" is not commonly practiced. It is valuable in critically ill patients as it is superior to physical examination plus radiograph interpretation combined. It has advantages of being-
non-invasive
safe (no radiation)
short learning curve
The fundamental principle is that artefacts are assessed in those conditions where lungs are predominantly aerated. These artefacts are based on a relative proportion of air and water.
A lines: These are artefacts generated by air below the pleural line.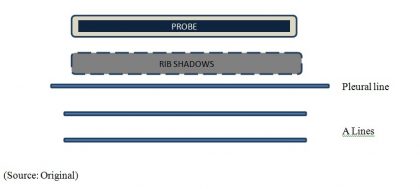 Sea Shore sign: Subcutaneous tissue above the pleural line generates horizontal straight lines while there will be a sandy appearance below the pleural line created by the movement of lung sliding. On M mode-

The ultrasound feature of interstitial oedema is B lines.
These vertical hyperechoic lines extend down to the image, arise from the pleural line and move with lung sliding.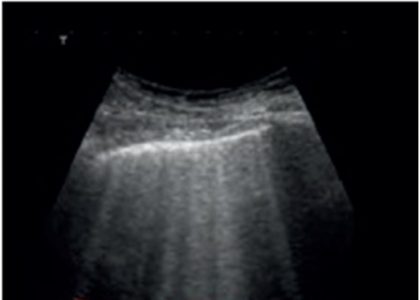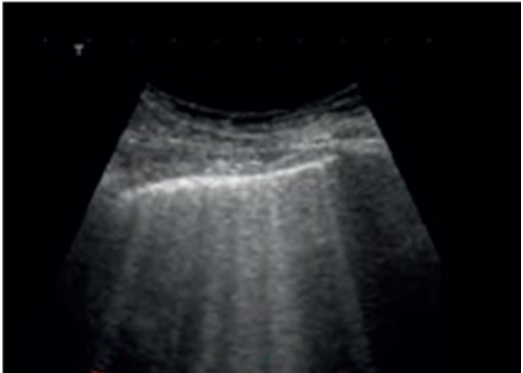 Three or more between rib spaces are pathological.
The commonest cause is pulmonary oedema where they are the equivalent of Kerley B lines.
The article further explains how to differentiate between cardiogenic and non-cardiogenic pulmonary edema using sociological signs.
A study conducted in 2017 compared findings of lung ultrasound with chest radiographs in patients who underwent liver transplantation and found the presence or absence of B lines useful in detecting diffuse parenchymal lung disease. They concluded-
There is an association between the presence of extensive B-lines to the point of confluence and "dirty shadowing" on US examinations of the chest and associated findings on chest radiographs and CT scans of DPLD. Conversely, isolated B-lines do not always correlate with abnormalities on chest films and in fact sometimes appear to be a normal variant. [1]
Risk of pulmonary edema is the main limiting factor in fluid therapy in the critically ill and knowledge of this simple concept can help to decide on fluid therapy. [CHEST 136(4):1014-20 · October 2009]
1.Theodore J. Dubinsky, Hardik Shah, RachelleSonneborn, Daniel S. Hippe.Correlation of B-Lines on Ultrasonography With Interstitial Lung Disease on Chest Radiography and CT Imaging; CHEST 2017; 152(5):990-998
Source: A Miller, Practical approach to lung ultrasound. BJA Education, 16 (2): 39–45 (2016)
Dr. Niharika Prasad,
The author is MD (Radiodiagnosis) and is Senior Resident, Dept of Radiology in All India Institute of Medical Sciences, AIIMS Patna. She is a member Editorial Board, Radiology at Specialty Medical Dialogues.
The following two tabs change content below.
Anjali Nimesh
Anjali Nimesh Joined Medical Dialogue as Reporter in 2016. she covers all the medical specialty news in different medical categories. She also covers the Medical guidelines, Medical Journals, rare medical surgeries as well as all the updates in medical filed. She is a graduate from Dr. Bhimrao Ambedkar University. She can be contacted at editorial@medicaldialogues.in Contact no. 011-43720751
Latest posts by Anjali Nimesh (see all)
Disclaimer:
The views expressed in the above article are solely those of the author/agency in his/her private capacity and DO NOT represent the views of
Speciality Medical Dialogues
.