A difficult CTO - Case by Dr Ramesh Patel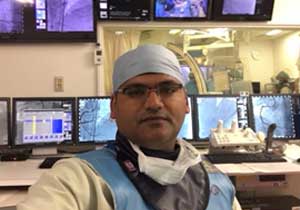 Chronic total occlusion (CTO) are one of the most thrilling cases for cardiologists and they give cardiologist an opportunity to improve their skills . Sometimes these CTOs test their patience, sometimes they test their judgment to indulge in the case, sometimes they teach us when to quit and when to reattempt it with new energy and hardware. There are moments when CTO make us humble to request a help from other colleagues.
CTOs are most diversified lesions. Each CTO is different. This CTO was also different. It was a chronic total occlusion of right coronary artery. This middle-aged man was hypertensive, smoker who presented with recurrent chest pain. After the assessment, we planned to try first antegradely. We took a 6 F JR guide and a Corsair microcatheter and proceed with a fielder XTR wire. We glided this wire with Corsair wire across the lesion but when we checked with retrograde injection it was in false lumen distally, so we switched to retrograde approach with XB 6F /3.5 . We took a Corsair 150 and with a sion blue wire, we crossed retrogradely through selected collateral into the posterior descending artery. We pushed Corsair through collateral over the wire till distal part of CTO. Now again we first tried with fielder XTR which was unable to cross the lesion which was escalated by Gaia 2 and with its help we reach till proximal cap but before trying anything else patient become uncooperative and our antegrade progress was lost . At this time already 2 hrs had passed and we were extremely tired to further proceed in the case and hence we abandoned it.
We plan it on a fresh day , with new hardware and an expert of this Dr Arun Kalyanasundaram. This time we took bilateral femoral approach and took AL 1 /7F to hook RCA. As per rule we took first fielder XTR with Corsair but this wire ended up in false lumen again. But we continued with new technique whereby knuckling the false lumen was widened and we took cross boss and crossed the lesion with it till distally. As we were still in false lumen we took stingray balloon which is a flat balloon with two ports distally on both sides. It was inflated distal to lesion in false lumen where healthy arterial lumen was available. With the help of stingray wire we created some connections between false and true lumen. A pilot 150 wire was available which was used to reach to true lumen through those connections. Next procedure become equivalent to routine PCI. The Lesion was predicated with 1.25 *9 mm f/b 2.0*9 mm balloon and it was followed by implanting two DES 2.5*40 mm distally and 3.5*29 mm proximally. The result was TIMI 3 flow.
So by this case, we learnt that we can increase success in CTO lesions by proper planning and skills. Availability of good and new hardware is extremely important to increase success ratio in CTOs.