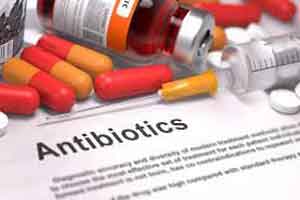 According to recent study antibiotics after incision and drainage improve the chance of short-term cure compared with placebo for small uncomplicated skin abscesses.This triggered Dr.Mieke Vermandere and expert panel to come out with clinical practice guideline for Antibiotics Use after incision and drainage for uncomplicated skin abscesses which has been published in form of an article in BMJ.The infographic presents the recommendations together with other pertinent information, including an overview of the absolute benefits and harms of candidate antibiotics in the standard GRADE format.
A skin abscess is an isolated collection of pus within the dermis and deeper skin tissues. Uncomplicated skin abscesses are collections of pus within the skin structures and are usually caused by bacterial infections. Careful history and clinical examination are usually sufficient to diagnose a skin abscess. Skin abscesses present as single or multiple tender, erythematous, indurated nodules, often surrounded by an area of erythema or swelling.Fluctuance beneath the skin often indicates a fluid-filled cavity. There may be a pustule at the area where the abscess is closest to the skin or spontaneous drainage of pus. The use of point-of-care ultrasonography can help differentiate an abscess from other soft tissue infections in the emergency department.
Major Recommendations :
For uncomplicated skin abscesses, we suggest using trimethoprim-sulfamethoxazole (TMP-SMX) or clindamycin in addition to incision and drainage rather than incision and drainage alone, and emphasise the need for shared decision making

TMP-SMX or clindamycin modestly reduces pain and treatment failure and probably reduces abscess recurrence, but increases the risk of adverse effects including nausea and diarrhoea

We suggest TMP-SMX rather than clindamycin because TMP-SMX has a lower risk of diarrhoea

Cephalosporins in addition to incision and drainage are probably not more effective than incision and drainage alone in most settings

From a societal perspective, the modest benefits from adjuvant antibiotics may not outweigh the harms from increased antimicrobial resistance in the community, although this is speculative
For further reference log on to :
BMJ 2018; 360 doi: https://doi.org/10.1136/bmj.k243
The following two tabs change content below.
Dr. Kamal Kant Kohli
A Medical practitioner with a flair for writing medical articles, Dr Kamal Kant Kohli joined Medical Dialogues as an Editor-in-Chief for the Speciality Medical Dialogues. Before Joining Medical Dialogues, he has served as the Hony. Secretary of the Delhi Medical Association as well as the chairman of Anti-Quackery Committee in Delhi and worked with other Medical Councils of India. Email: drkohli@medicaldialogues.in. Contact no. 011-43720751
Latest posts by Dr. Kamal Kant Kohli (see all)