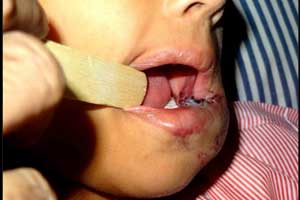 12-year-old Tejaswani (name changed) had a swelling on her left cheek since birth. She had undergone open surgery twice at the age of 5 years and 8 years with recurrence both times. The lesion would bleed at times and recently there was an increase in size associated with pain. Examination and investigations revealed a low flow venous malformation of the left cheek with bleeding on the mucosal side. She underwent a sclerotherapy guided by ultrasound and fluoro. The lesion shrank rapidly and there was no further bleeding.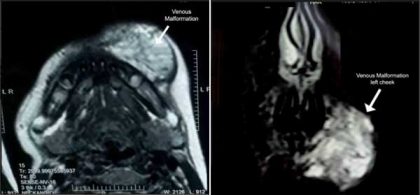 Venous malformations (VM) are congenital endothelial defects that result from errors in vascular morphogenesis. They are composed of vascular channels lined with thin endothelium sometimes containing intraluminal thrombi. They usually present at birth and grow with the child. The incidence is 1 in 10,000. The typical appearance is of a non-pulsatile compressible area of soft tissue prominence without any thrill or bruit. Diagnosis is confirmed by imaging (ultrasound and MRI). Most lesions respond well to sclerotherapy which might have to be repeated for small recurrences or residual lesions.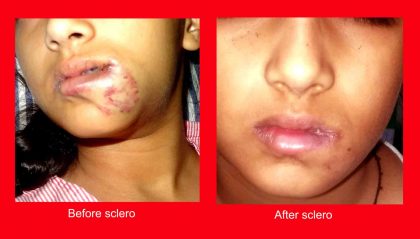 The following two tabs change content below.
Hine Zahid Joined Medical Dialogue in 2017 with a passion to work as a Reporter. She covers all the stories related to Medical guidelines, Medical Journals, rare medical surgeries as well as all the updates in the medical field. Email: hina@medicaldialogues.in. Contact no. 011-43720751