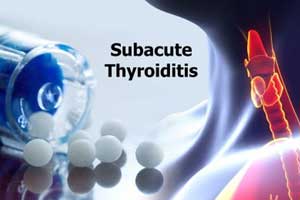 The present case of Subacute Thyroiditis is a rare Complication of Dengue. It has been reported by Dr Divendu Bhushan and has appeared in the Journal of the Association of Physicians of India.
WHO guideline divides dengue into dengue fever, dengue hemorrhagic fever with or without shock and expanded dengue syndrome. Dengue fever which is now an epidemic in our country has a variety of presentations, less common are encephalitis, myositis, pancreatitis, Guillain Barre syndrome and splenic rupture.
In the instant case, a 23 yr old boy presented with fever for last 6 days which was initially high grade and had now decreased to 100 F. There was a history of neck swelling with pain since past 1 day making him unable to swallow even liquids.
He was fund to have tachycardia, exophthalmos, mild tender thyromegaly (Gd II), and warm extremities on clinical examination. He had no tremor, organomegaly, and rash over the body.
His investigations revealed that his Haemoglobin was 10.5 gm%, TLC was 23,910/cumm, platelet count 2.95 lakh/ cumm and ESR was  101 mm in 1st hour.His TSH was 0.17 Uiu/ml (0.47-4.68), FT4: 2.73 ng/dl (0.78-2.19), and his IgM Antibody for dengue positive.
His USG of the neck was carried out which revealed moderate size (5×4 cm) complex solid cystic lesion abutting the right lobe of the thyroid. Doppler revealed marked raised intralesional vascularity with multiple lymph node enlargements. 99mTc pertechnetate thyroid scan showed decreased uptake in the thyroid. This confirmed the diagnosis of thyroiditis and he was treated with propranolol, steroids, antibiotics and anti-inflammatory medicine to which he responded well.
Usually, Dengue fever presents with fever, headache, body ache, nausea and rash over the body. The gastrointestinal manifestations include transaminitis, hyperbilirubinemia, ascitis, gallbladder oedema, and, hepatomegaly. It can also manifest with some less common presentations as myocarditis, Gulliane Barre syndrome, encephalitis, and intracerebral bleed. Subacute thyroiditis which usually occurs after a viral illness and has a female preponderance is not very well associated with dengue fever.
There is past report from Pakistan in 2012, where the dengue patient developed intracerebral bleed and subacute thyroiditis. Thyroiditis characteristically follows hyperthyroid hypothyroid-euthyroid stages. Also many times it goes unnoticed because it mimics pharyngitis, but thyroid swelling with pain which may even radiate to ear, fever and features of thyrotoxicosis are classical symptoms of this. Treatment includes NSAIDs, steroids and other symptomatic treatment.

For more details click on the link: http://www.japi.org/june_2018/32_Correspondence_Subacute_Thyroiditis.html