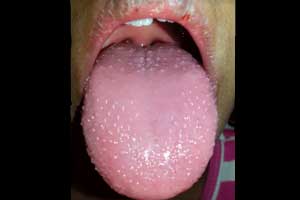 Dr Alakes Kole, I.D. and B.G. Hospital, Kolkata, India, and colleagues have reported a case of Kawasaki's disease with a typical sign of Strawberry tongue. The case has appeared in NEJM.
Strawberry tongue is the name given to a red swollen, bumpy tongue with enlarged taste buds. Most often, the enlarged tongue is very red, like a strawberry or raspberry. Occasionally, the tongue will be white for a few days before turning red. It can be a symptom of Kawasaki disease which is a vasculitis of childhood. It occurs most frequently in children younger than 5 years of age and typically affects medium-sized arteries. Accurate diagnosis and early therapeutic interventions can decrease the risk of coronary-artery abnormalities.
A strawberry tongue is a symptom of different conditions or disorders like-
Kawasaki disease:
Scarlet fever:
Food or drug allergies:
Toxic shock syndrome (TSS):
Courtesy NEJM
According to history, a girl aged 8 years reported to the hospital with a 7-day history of fever and rash. On examination, she had a diffuse macular rash, fissured lips, and strawberry tongue, and her temperature was 39°C. The patient also had a nonexudative conjunctival injection in both eyes, with few enlarged cervical lymph nodes, erythema of the palms and soles, mild oedema of the hands, and periungual desquamation. Her cardiac examination was normal. The attending doctors made a  clinical diagnosis of Kawasaki's disease in the case.
Her laboratory tests revealed a leukocytosis, with a white-cell count of 13,000 per cubic millimetre (reference range, 3500–10,500). Her ESR was elevated and was 80 mm per hour (reference range, 0 to 29). The platelet count and results on electrocardiography and echocardiography were normal.
The patient was put on aspirin and immune globulin on admission and at a follow-up visit 8 weeks later.
There is no diagnostic test that is specific for Kawasaki's disease; diagnosis is based on characteristic clinical findings and the exclusion of other possibilities in the differential diagnosis, including other infectious exanthems of childhood and reactions to drugs.
For more detail click on the link: DOI: 10.1056/NEJMicm1411222