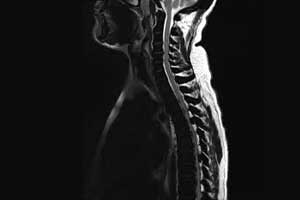 Dr Kota Sakaguchi1 at General Internal Medicine, Nakagami Hospital, Okinawa, Japan and colleagues have reported a case of left shoulder pain from a spinal epidural haematoma which has appeared in journal BMJ case reports.
Left shoulder pain is commonly considered as a referred pain from acute coronary syndrome among patients at high risk for cardiovascular events. But Neuropathic pain from spinal epidural haematoma, SEH should be considered as an important differential diagnosis with potentially serious neurological deficits, since it may develop spontaneously among patients on daily aspirin.
According to history a  66-year-old man with the medical history of old myocardial infarction and on daily aspirin visited the emergency department with sudden onset of severe left shoulder pain. He did not reveal any history of prior trauma and denied cold sweat, vomiting, chest or back pains. On initial evaluation, his cardiac and neurological examinations were normal and there was no tenderness over the shoulder joints or the spine. 

A diagnosis of acute myocardial infarction or aorta dissection was first suspected. However, ECG, serum troponin T concentration and contrast-enhanced CT of the chest showed negative results.

MRI showing epidural haematoma (white arrow) which compresses cervical spinal cord.
Courtesy BMJ Case Reports
The patient was admitted to the emergency department under the diagnosis of the possible acute coronary syndrome. But, several hours later, he suddenly developed mild weakness of the left upper and lower extremities without facial muscle involvement. Urgent MRI revealed cervical spinal epidural haematoma (SEH) with spinal cord compression mainly to the left side.

The patient underwent decompression laminectomy. Aspirin was considered as a contributing factor to the development of haematoma and thus it was discontinued for a week. The patient was restarted with aspirin 1 week after the operation since we considered it was important to prevent myocardial infarction and the patient agreed with our plan. He was discharged home free from neurological symptoms after a course of rehabilitation.
In the current case, acute-onset left shoulder pain was initially suspected as a referred pain from acute coronary syndrome or acute aortic dissection, but later it was identified as neuropathic pain from SEH. 
Learning points
• Shoulder pain without tenderness could be a referred pain or a neuropathic pain.
• Left shoulder pain could be a symptom suggestive of spontaneous epidural haematoma of the cervical spine in patients on daily aspirin.
For more details click on the link: doi:10.1136/bcr-2018-226159