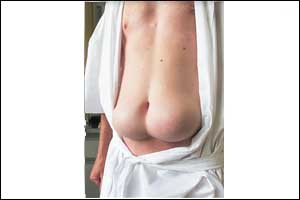 Dr. Stanley Landau, F.C.P.(S.A.) at Centre for Diabetes and Endocrinology, Johannesburg, South Africa has reported a case of severe Lipohypertrophy induced by injection Insulin.
Lipohypertrophy occurs because patients keep injecting the same site day after day. It frequently occurs on both sides of the umbilicus or in the mid-thigh areas as these are convenient places to inject, and where the patient's hands reach most naturally. Due to repeated injections, the area becomes hypersensitive. Once the patient feels pain when injecting elsewhere, but not in the lipohypertrophic area, he or she tends to continue injecting in the same site even if aware of the need to rotate
In the present case a 55-year-old man with a 31-year history of type 1 diabetes mellitus presented for a routine clinical evaluation for first time in two decades. He was on an insulin regimen that consisted of a combination of neutral protamine Hagedorn (NPH) and rapid-acting insulin. Over the years after his diabetes diagnosis, he had habitually injected insulin into two locations in the periumbilical region. 

The two visible discrete subcutaneous masses were palpated and both were firm and pendulous. A clinical diagnosis of insulin-induced lipohypertrophy was made. a condition that has been documented with many insulin preparations.

Courtesy NEJM
It is important that careful attention should be paid to the teaching of correct methods of insulin injection, site rotation, and routine inspection of injection sites. Lipohypertrophy can be associated with glycemic flux and can be disfiguring. 

The patient was counselled regarding injection-site rotation and encouraged to use a 6-mm rather than an 8-mm needle. His NPH insulin was replaced with insulin glargine. The patient was subsequently lost to follow-up.
It has been recommended that in order to diagnose the condition sites should be palpated and not just visually examined. Extensive education is required, firstly of doctors so that they can learn to recognise the problem and be encouraged to examine closely, by palpation, for the presence of the disorder. Secondly, patients need to be educated that they can avoid the problem, and to be reeducated
where the problem has already occurred.
Liposuction surgery could be useful in patients with diabetic lipohypertrophy who do not respond to more conservative treatments.
For more details click on the link: DOI: 10.1056/NEJMicm1101527