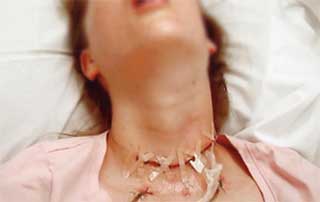 Dr Manon Leus,  at Radboud University Medical Center,  Netherlands and colleagues have reported a case of severe dystonic reaction following treatment with Metoclopramide and which has appeared in NEJM.
Metoclopramide is a medication which is very commonly used to treat and prevent nausea and vomiting, to help with emptying of the stomach in people with delayed stomach emptying, gastroenteritis and to help with gastroesophageal reflux disease.
Dystonic reactions are reversible extrapyramidal effects that can occur after administration of a neuroleptic drug. Neuroleptics (antipsychotics), antiemetics, and antidepressants are the most common causes of drug-induced dystonic reactions. Acute dystonic reactions have been described with every antipsychotic. Drugs belonging to this class of neuroleptics include  Acetophenazine, amoxapine, chlorpromazine, fluphenazine, haloperidol, loxapine, mesoridazine, metoclopramide, molinndone, perphenazine, piperacetazine, prochlorperazine, promazine, promethazine, thiethylperazine, thioridazine, thiothixene, trifluoperazine, triflupromazine, and trimeprazine.
In the present case, a 21-year-old woman with thyroid carcinoma was subjected to total thyroidectomy and lymph node dissection. After two days of surgery, she had forced extension of the neck, nonrigid opening of the jaw, and lateral deviation of eyes to the left without a rhythmic component.

Courtesy NEJM
She was conscious and remained able to follow commands (e.g., she was able to stick out her tongue when asked). She had been treated for postoperative nausea with metoclopramide, a frequently used antiemetic agent with an antidopaminergic effect, having received 10 mg orally twice a day for 2 days, with symptom onset 24 hours after the first dose and worsening during the next 9 hours. 

The patient was treated with intravenous biperiden, an anticholinergic agent, was initiated, and the symptoms resolved within minutes. Metoclopramide was discontinued, and there were no further acute dystonic reactions. 

Such reactions to metoclopramide occur most frequently in children and persons younger than 30 years of age and occur at the greater frequency with the administration of doses greater than 30 mg per day. The patient was advised to avoid future use of metoclopramide.

Carry home Points :
The diagnosis is usually apparent from the history and physical examination. A history of medication exposure is usually obtained.
Emergency interventions other than pharmacologic treatment rarely are required.

Pharmacologic treatment, typically with anticholinergic agents, resolves the reaction. Commonly effective options are Benztropine 1-2 mg PO bid, Diphenhydramine 25-50 mg PO qid.GABA agonists (eg, benzodiazepines) may be helpful for acute dystonic reactions when anti-muscarinic agents are not appropriate.
For more details click on the link: DOI: 10.1056/NEJMicm1412207