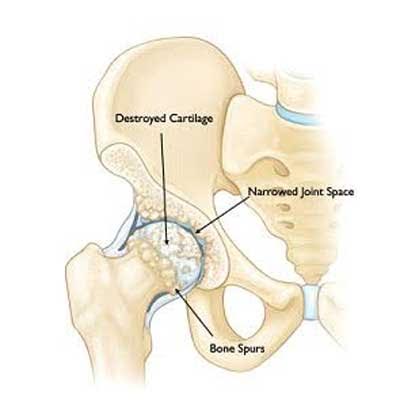 A young lady of 26 yrs,  of medium build and having Body Mass Index within normal range was referred for the ultrasound of the S.I.Joint for the c/o pain of 3-4 months duration.
She was carrying a good quality Radiograph of both S.I.Joints  AP view  Reported Sacroilitis, left side Also an MRI both  S. I. Joints: Reported Sacroilitis  Left S.I. Joint .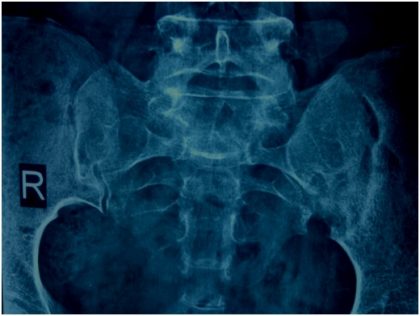 Pearls: Musculoskeletal Usg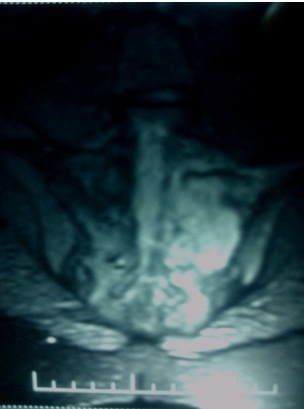 There was the very minimal symptomatic relief after two weeks of treatment with anti-inflammatory drugs. Finally, the treating Consultant orthopedician sent her for HFUS of both S.I Joints for evaluation of any additional pathology and assessment for intra-articular steroid injection under ultrasound guidance, if need be.
As is the standard protocol, S.I.Joints are evaluated with Linear multifrequency (12-5 Mhz) probe in prone position.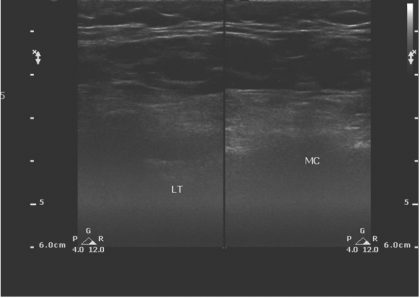 The image obtained shows  Skin, SCT ( fat with well defined interfascial sept as) Underlying bony landmarks of the centrally placed median crest and winged out lateral masses bilaterally. As is well appreciated the image is very poor quality and deeper planes are indistinguishable.
The patient was not obese however the fat composition of certain individuals precludes optimal visualization of deeper structures. THI (Tissue harmonics app) works on the similar principles. ref: Investigation on effects of subcutaneous fat on image quality performance of 2 D conventional imaging and tissue harmonic imaging ( Dublin Institute of technology)
The scan transducer was changed to curvilinear Multifrequency probe ( 5-3 Mhz).
Left S.I. Joint shows altered configuration with the underlying cortical destruction of bony landmarks as compared to the right side.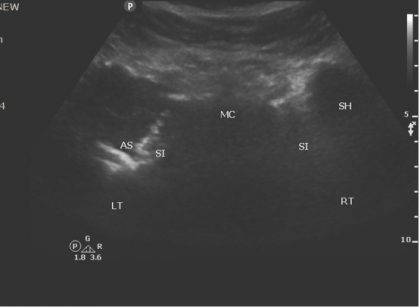 Targeted view of the left S.I. Joint is showing distended capsule with homogenous fluid collection associated with cortical erosion of the sacral and ileum articular surfaces.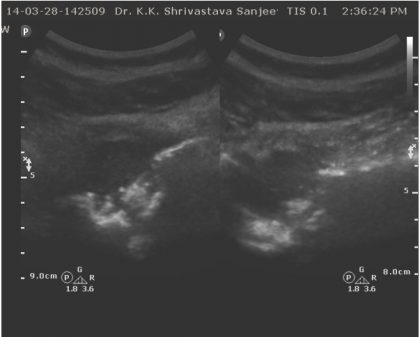 The provisional diagnosis of cold abscess secondary to Koch's Left S.I. Joint was made.
A confirmation by way of FNA for tissue diagnosis was instituted at the same sitting under USG guidance.
Each case study is a strong lesson in MSK-USG, well learned and shared.
Dr. Nidhi Bhatnagar
The author is M.D., Radio-diagnosis, Ph.D. ( Hony. Seoul) and Assistant Professor,  General Secretary, Musculoskeletal Ultrasound Society, Dept of  Radiologist and Ultrasonologist, She is a member Editorial Board, Radiology at Specialty Medical Dialogues.
Disclaimer:
The views expressed in the above article are solely those of the author/agency in his/her private capacity and DO NOT represent the views of
Speciality Medical Dialogues
.