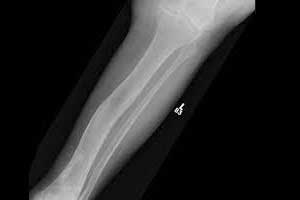 Dr.Denis Macdonald and colleagues have reported a case of Synovial Hemangioma that has appeared in NEJM.
Synovial hemangiomas, first described by Bouchut in 1856, are rare benign vascular tumours that occur most frequently around the knee but have also been reported in the elbow, wrist, ankle, temporomandibular joint and tendon sheath. Usually, the initial clinical presentation of synovial hemangiomas often includes pain, joint swelling and recurrent joint effusions, with or without limitation in range of motion.
A 19-year-old man presented with a five-year history of inability to walk and a decreased range of motion. He witnessed a gradually increasing mass on the lateral aspect of his right knee. He first noted this mass after receiving a direct blow to the area while playing ice hockey. 

MRI showed a hyperintense synovial lesion with bulging or distention of the lateral capsule and retinacular complex the bones and menisci were normal. Arthroscopy revealed a pedunculated, grape-like lesion arising from the synovium in the lateral parapatellar gutter r

The biopsy revealed thick-walled, prominent vascular channels surrounded by fibrous tissue and areas of hemosiderosis consistent with the presence of a cavernous hemangioma. The patient declined further surgery and was well at the most recent follow-up visit.
Soft-tissue hemangiomas can be categorized based on specific site of origin as cutaneous, subcutaneous, intramuscular, synovial or subsynovial . Intra-articular lesions are actually situated within the joint capsule itself, and the last type, intermediate, show features of both juxta-articular and intra-articular lesions. Most reported cases have been of the juxta-articular and intermediate types.Once identified, surgery should be initiated rapidly to reduce the long-term risk of cartilage deterioration and chronic hemarthropathy which involves open or arthroscopic surgical excision of the entire hemangioma, with partial or total synovectomy. The rate  of recurrence is generally much higher following open surgical excision due to the diffuse nature of the lesion
For further reference log on to :
https://www.nejm.org/doi/full/10.1056/NEJM199907293410505