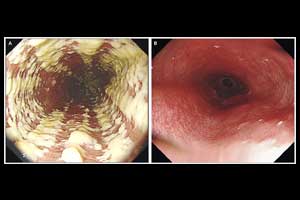 Takeshi Kondo and Kazuhiko Terada from Chiba University Hospital, Chiba, Japan report the case of a case of odynophagia due to candida infection of the oesophagus in a  72-year-old man.
The case has been published in the The New England Journal of Medicine. 
Courtesy NEJM
The man was presented with a 2-week history of odynophagia  (pain on swallowing). Sixteen months before the onset of this symptom, the patient had received a diagnosis of diffuse panbronchiolitis, and he had been receiving long-term treatment with macrolide antibiotics since then. He had not received glucocorticoids or other immunosuppressant medications.
Common causes of odynophagia include-
Cancer: Sometimes chronic painful swallowing is an early sign of oesophagal cancer.
Candida infection: This is a type of fungal (yeast) infection that may occur in your mouth. It can spread and cause esophageal symptoms like painful swallowing.
Gastroesophageal reflux disease (GERD): This develops from the lower sphincter in the esophagus not closing properly. As a result, stomach acid leaks back into the oesophagus. You might have GERD if you experience painful swallowing along with other symptoms, such as heartburn or chest pain.
HIV: Esophagus problems occur often in people with HIV.
Ulcers: These are sores that can occur in your mouth, throat, or oesophagus, as well as your stomach. Ulcers may also be caused by untreated GERD. The long-term use of anti-inflammatory drugs, such as ibuprofen (Advil, Motrin IB), can increase your risk of ulcers.
Upper endoscopy revealed linear, white, mucosal, plaque-like lesions on the oesophagus. No oropharyngeal or gastroduodenal lesions were noted. The diagnosis of candida esophagitis was made on the basis of the characteristic endoscopic findings and was confirmed by a culture of oesophagal brushing samples that were positive for Candida albicans. 

A serologic test for human immunodeficiency virus was negative. Candida esophagitis is a common opportunistic infection in immunocompromised hosts. Long-term treatment with antibiotics can be a risk factor in immunocompetent patients. Oral antifungal therapy was initiated in the patient, and within 2 weeks after starting therapy, his pain on swallowing was reduced. 

A repeat endoscopy performed 12 weeks after the initiation of antifungal therapy showed a marked reduction in the number and severity of oesophagal lesions.
For further reference follow the link: 10.1056/NEJMicm1614893