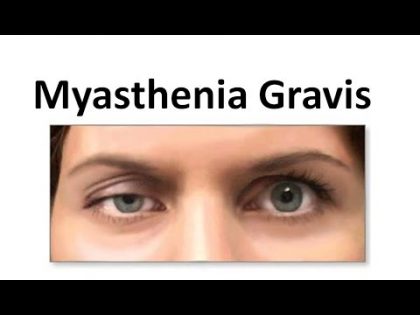 The ice pack test may be helpful in establishing that ptosis is due to ocular myasthenia gravis, since cold improves neuromuscular transmission reports a  case which appeared in the journal NEJM where a 68-year-old man presented with unilateral ptosis and no other symptoms was diagnosed with the ice-pack test for myasthenia gravis.
Myasthenia gravis (MG) is a long-term neuromuscular disease that leads to varying degrees of skeletal muscle weakness. The most commonly affected muscles are those of the eyes, face, and swallowing. This auto-immune disease can result in fluctuating double vision and ptosis which are the hallmarks of extraocular muscle weakness in myasthenia gravis (MG). Onset can be sudden.
Establishing the diagnosis of isolated ocular myasthenia is sometimes difficult: symptomatic response to acetylcholinesterase medication may be equivocal, and acetylcholine receptor (AChR) auto-antibodies may be absent in up to 30% of those with symptoms restricted to the eyes for more than 2 years.
Previous studies have examined the effect of the ice pack test on ptosis; although involving small numbers of patients, these investigations have suggested that the test is of use in establishing a diagnosis of ocular myasthenia in this situation, both in terms of its sensitivity and specificity.
The neurologic examination was performed in the patient which revealed ptosis of the left eye after a sustained upward gaze (Panel A). The movements of the extraocular muscles were normal.

Myasthenia gravis was suspected, and the ice-pack test was performed with the placement of an instant cold pack over the left eye (Panel B). After 2 minutes, the ptosis was substantially diminished (>5 mm), indicating a positive test (Panel C). 



courtesy: NEJM
The diagnosis was further supported by the presence of serum anti-acetylcholine receptor antibodies and by electrodiagnostic testing, which showed a decremental response to repetitive nerve stimulation. 

The ice-pack test can be a useful bedside test to distinguish myasthenia gravis from other causes of ptosis or ophthalmoparesis. The inhibition of acetylcholinesterase activity at a reduced muscle temperature is thought to underlie the observed clinical improvement.

The patient was treated symptomatically with pyridostigmine, and the ptosis was diminished.
For reference log on to
https://www.nejm.org/doi/full/10.1056/NEJMicm1509523