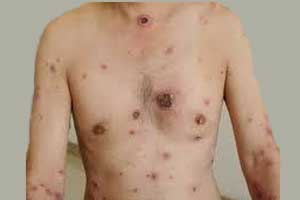 Dr. J.R. Sun at Department of Dermatology and Venerology, Peking University First Hospital, Beijing, China, and associates have reported a case of Malignant syphilis in a young man with HIV infection that has appeared in the British Journal of Dermatology.
Malignant syphilis is an uncommon manifestation of secondary syphilis, in which necrotic lesions may be associated with systemic signs and symptoms. Generally, it occurs in an immunosuppressed patient, mainly HIV-infected, but might be observed on those who have a normal immune response.
According to the history of the case, a 23‐year‐old man presented with a 2‐month history of recurrent fever and progressing skin ulcers with eschars on his face, trunk, and extremities. Treponemal serology test was positive and immunohistochemistry of his skin biopsy showed numerous spirochetes.

Additional results confirmed that he was infected with HIV, with a decreased CD4+ T‐cell count. A diagnosis of malignant syphilis associated with HIV infection was finally made. 

Malignant syphilis is an uncommon manifestation of secondary syphilis, characterized by generalized ulcerative skin lesions with prodromal symptoms. Generally, it occurs in immunosuppressed individuals, especially in HIV‐infected Patients.

Images courtesy British Journal of Dermatology
Malignant syphilis may be the initial presentation of underlying HIV infection. The patient was treated with doxycycline 100 mg twice daily for 14 days as he was allergic to penicillin. The therapy resulted in rapid regression of the skin lesions and antiretroviral therapy was initiated.
For more details click on the link: https://doi.org/10.1111/bjd.16566
Hina Zahid Joined Medical Dialogue in 2017 with a passion to work as a Reporter. She covers all the stories related to Medical guidelines, Medical Journals, rare medical surgeries as well as all the updates in the medical field.
Email: hina@medicaldialogues.in.
Contact no. 011-43720751