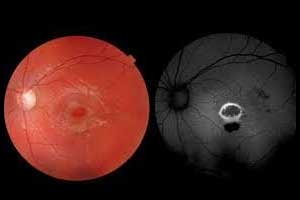 Dr.Sofia Androudi and associates have reported a case of Macular Hole caused by a Laser Pointer that has appeared in NEJM. The case depicts that playing with a laser pointer may have left a young boy with permanent eye damage.
A 9-year-old boy visited an ophthalmology clinic in Larissa, Greece, with a complaint of vision problems in his left eye for evaluation and treatment. On Examination his visual acuity in the left eye was 20/100, as compared with 20/20 in the right eye. The funduscopic examination of the left eye revealed a large macular hole with a hypopigmented atrophic area inferiorly. Macular holes can cause blurry and distorted vision and usually they happen through eye trauma or as part of the natural ageing process.
Further tests including Optical coherence tomography confirmed the full-thickness macular hole. His fundus autofluorescence imaging highlighted two spots inferior to the macular hole that corresponded to additional areas of injury. After interviewing the patient, doctors determined that his eye damage was likely caused by playing with and staring at the light of a green laser pointer.
Considering the extent of the damage, the boy's doctors opted not to operate and favoured conservative management rather than surgery. The vision of patient remained unchanged during 18 months of follow-up.
It is unfortunate that although many national health agencies have warned about the potential eye hazards associated with handheld laser pointers, and the sale of devices with greater than 1 mW of power is restricted in many areas, more powerful laser devices remain accessible, especially through the Internet. It has to be emphasized that Lasers can cause eye damage in as little as a few seconds, and anything from the power and wavelength of a laser to the angle at which it's viewed can affect the severity of an injury
For more details click on the link: DOI: 10.1056/NEJMicm1714488