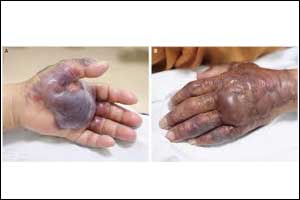 Dr.Jin Park and colleagues have reported a case of flesh-eating bacteria, Vibrio vulnificus Infection that has been published in NEJM.
There are about 12 Vibrio species that make people sick, and they've been around for many years. According to CDC, vibriosis causes an estimated 100 deaths in the U.S. each year. It also causes an estimated 80,000 illnesses—52,000 of which are from eating contaminated seafood like raw oysters.Vibrio has been dubbed a type of flesh-eating bacteria, thanks to the blistering skin lesions that can spread quickly across the body if an infection isn't treated. Contact with contaminated fish and shellfish is also a risk factor, and crabs are known to carry Vibrio bacteria on their shells.

Courtesy NEJM
According to case history, a  71-year-old man presented to the emergency department with a 2-day history of fever and excruciating pain in his left hand that had developed 12 hours after eating raw seafood. He had a history of type 2 diabetes mellitus and hypertension and was undergoing hemodialysis for the end-stage renal disease.
At the time of presentation, hemorrhagic bullae measuring 3.5 by 4.5 cm had developed on the palm of his left hand, and erythematous swelling with confluent tense bullae and ecchymoses had developed on the dorsum of the hand and forearm.
Surgical intervention was performed urgently, and Vibrio vulnificus was isolated from the bullae. Postoperatively, the patient received intravenous ceftazidime and ciprofloxacin. V. vulnificus can cause skin infections after wound exposure to contaminated seawater, as well as primary septicemia through the consumption of contaminated raw or undercooked seafood.
Patients with immunocompromising conditions, including chronic liver disease and cancer, are at increased risk for infection and complications. Despite treatment, the skin lesions progressed to deep necrotic ulcers, and amputation of the left forearm was performed 25 days after presentation. The patient did well after the surgery and was discharged home.

Vibriosis usually occurs in men over 50 and is fatal in people with compromised immune systems because of a condition like liver disease, heart disease, or diabetes. Healthy people don't need to avoid the water or stay away from seafood but it is important to keep open wounds away from seawater and raw seafood.
For more details click on the link: DOI: 10.1056/NEJMicm1716464