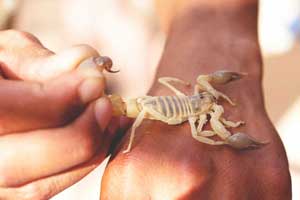 Umar Farooque and colleagues at Dow Medical College, Karachi, Pakistan have reported a Case Report of Haemolytic Anemia due to Scorpion Bite.The case has appeared in Journal of Internal Medicine.
In tropical and subtropical countries,Scorpion bite is a common health problem commonly presenting with localized, painful, tingling or burning sensation.This case shows haemolytic anaemia following scorpion bite as an unusual presentation and should be kept in mind while managing these patients.
In the present case ,a 26-year-old female presented to hospital with fever, jaundice and yellowish discolouration of urine for two days. There was a history of a scorpion bite  1 week back. There was no Past history of  transfusion or drug allergy. In addition personal, family and socioeconomic histories were unremarkable.

On physical examination, she was seemingly lethargic. Her  temperature was 100°F and she had anaemia and jaundice simultaneously.Her complete blood count showed haemoglobin 5.4 g/dl, MCV 93 fl, MCHC 31%, red cell count 2.01 million/mm3, hematocrit 18.6% and total leukocyte count 8900/ mm3 with neutrophils 76% when she was subjected to investigations.

The peripheral smear revealed hypochromic anisocytosis and her reticulocytes were 12%. The total bilirubin of patient was 4.02 mg/dl with an indirect bilirubin of 2.57 mg/dl. As far ar as her LFTs were concerned,her SGPT and Alkaline Phosphatase were 38 IU/L and 156 IU/L respectively and  HBsAg, anti- HCV IgG, anti-HAV IgM and anti-HEV IgG were non-reactive.
As far as other investigations were concerned,Serum anti-dsDNA, ANA, ASMA, AMA and direct Coombs test was negative. Her Urea, creatinine and electrolytes, LDH, serum albumin concentration, PT, APTT and ultrasound abdomen were normal.

She was diagnosed as a case of Haemolytic anemia due to scorpion bite . During hospitalization,she was transfused  2 pints of packed red cells .In addition  IV fluids were administered, and folic acid and prednisolone were given. 

The patient  responded well to the treatment  and she  was discharged after 1 week. She was given Folic acid and prednisolone  for 1 month after discharge. Her serum bilirubin came to normal after 1 month. The patient  was followed-up for 6 months.

 Hemolysins in the scorpion venom are the possible substances causing haemolytic anemia by direct destruction of RBCs. Agglutinins, coagulins and endotheliolysins cause microangiopathic haemolytic anemia of haemolytic uremic syndrome.
For more details click on the link: DOI: 10.4172/2165-8048.1000270