A case of disseminated histoplasmosis in patient with HIV infection: NEJM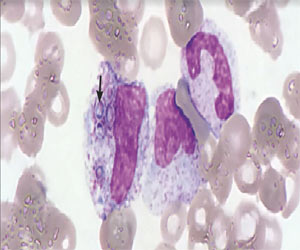 A case report published in the New England Journal of Medicine presents the case of a 30-year-old man with human immunodeficiency virus (HIV) infection presented to the emergency department with a 2-week history of fever, bloody diarrhea, and generalized weakness. He had discontinued antiretroviral therapy 3 months before presentation and then had spent 2 months in French Guiana. On physical examination, the patient was febrile, pale, and cachectic. Laboratory findings showed pancytopenia, a CD4+ cell count of 6 per cubic millimeter, and a C-reactive protein level of 239 mg per liter (reference range, 0 to 5).
Giemsa staining of a peripheral-blood sample revealed numerous myeloid cells containing intracytoplasmic yeast-like forms (arrow), a finding consistent with Histoplasma capsulatum.
Disseminated histoplasmosis is an opportunistic infection; when it occurs in patients with HIV infection, it is typically seen in those with a CD4+ cell count of less than 150 per cubic millimeter.
The patient was started on liposomal amphotericin B. His hospital course was complicated by hematemesis, and he died from complications of gastrointestinal hemorrhage. The diagnosis of disseminated histoplasmosis was confirmed with a positive result for H. capsulatum in peripheral blood and bone marrow aspirate on polymerase-chain-reaction analysis.
For more details click on the link:
DOI: 10.1056/NEJMicm1809792
Source : With inputs from NEJM