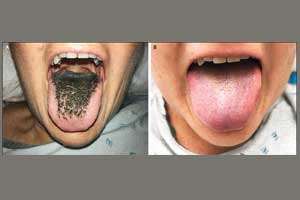 Dr.Yasir Hamad and Dr.David K. Warren at  Washington University, St. Louis, MO have reported an interesting case of Black Hairy Tongue caused by Minocycline that has appeared in NEJM.
Black hairy tongue refers to a condition of the tongue where the filiform papillae elongate with black or brown discolouration, giving a black and hairy appearance. The appearance may be alarming, but it is a harmless condition. The usual predisposing factors include smoking, xerostomia (dry mouth), soft diet, poor oral hygiene irritating mouthwashes and certain medications particularly tetracyclines. Management is by improving oral hygiene, especially scraping or brushing the tongue and stopping the offending agent.
In the instant case, a 55-year-old woman was admitted to the hospital after sustaining a severe crush injury to both legs in a motor vehicle accident. A polymicrobial wound infection developed, and she received treatment with intravenous meropenem and oral minocycline. Black discolouration of her tongue was observed within 1 week after treatment was started, and the patient reported nausea and a bad taste in her mouth. Black hairy tongue, resulting from treatment with minocycline, was suspected.
Courtesy NEJM
The black hairy tongue is usually reversible and has no long-term sequelae as long as the precipitating agent is discontinued and the patient practices good oral hygiene. In this patient, minocycline was discontinued, and an alternate antimicrobial regimen was started. She was advised to practice good oral hygiene. Within 4 weeks after the minocycline was stopped, her tongue returned to its normal colour.
For more details click on the link: DOI: 10.1056/NEJMicm1800351
Hina Zahid Joined Medical Dialogue in 2017 with a passion to work as a Reporter. She covers all the stories related to Medical guidelines, Medical Journals, rare medical surgeries as well as all the updates in the medical field.
Email: hina@medicaldialogues.in.
Contact no. 011-43720751