A Case of Baboon syndrome induced by paracetamol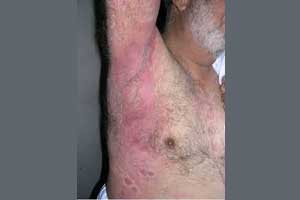 Dr.Roopa B at RVM Institute of Medical Sciences and Research Centre, Siddipet, Telangana, India and colleagues have reported a case of baboon syndrome due to paracetamol. The case has been published in International Journal of Basic & Clinical Pharmacology.
Baboon syndrome is systemically induced allergic contact dermatitis and is symmetrical drug-related intertriginous and flexural exanthema (SDRIFE). Its characteristics include a sharply defined symmetric erythema in the gluteal area and in the flexural or intertriginous folds without any systemic symptoms or signs.
In recent decades, hundreds of drugs have been reported as being causative agents of this disease. Amoxicillin, ceftriaxone, penicillin, and erythromycin are the most common drugs, other drugs like antihypertensives, radiocontrast media also cause baboon syndSDRSrome, BS.
The authors here present a case of 30-year-old female with baboon syndrome after taking the combination of paracetamol and diclofenac.
According to history a 30-year-old female presented to dermatology OP of RVM institute of medical sciences and research centre with a history of fever and having taken self-medication of combination of paracetamol and diclofenac tablet from a local pharmacy.
She reported that after taking the first dose, an erythematous rash appeared originating all over the flexural areas including buttocks and the inguinal area which rapidly progressed to the popliteal area, legs, neck and inframammary area. She also had associated erosions over the tongue were present.
The rash appeared one day after first administration of paracetamol and diclofenac combination and there were no associated systemic symptoms. Her physical examination revealed a symmetrical, erythematous macular rash on the neck, inframammary area, upper, lower extremities and more on the groins and buttocks. On examination, her oral cavity had multiple erosions over the tongue. The systemic examination of the patient was normal. She was asked to stop the drug (paracetamol and diclofenac) and prescribed systemic steroids to provide symptomatic relief and hasten the recovery.
She was administered oral corticosteroid (prednisone) with gradual dose tapering, initially at a dose of 20mg daily (for 1 week), followed by 10mg daily (for one week) and finally 5mg daily (for one week). The lesions started resolving once the treatment was initiated and completely resolved within 10days.
There was no previous history of occurrence of similar rash when diclofenac was taken alone. There was no history of any other drugs used along with a combination of paracetamol and diclofenac. The patient was thus diagnosed with symmetrical drug-related intertriginous and flexural exanthema due to paracetamol, based on the clinical features and previous drug history.Awareness of SDRIFE (BS) as an unusual drug reaction is especially important since the connection between skin eruption and drug exposure may easily be overlooked or misdiagnosed.
For more details click on the link:
DOI:
http://dx.doi.org/10.18203/2319-2003.ijbcp20183948