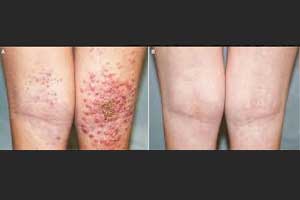 Dr.Giuseppe Micali and associates have reported a case of Eczema Herpeticum that has appeared in NEJM.
Eczema herpeticum, also known as a form of Kaposi varicelliform eruption usually caused by the herpes simplex virus (HSV) It is an extensive cutaneous vesicular eruption that arises from pre-existing skin disease, usually atopic dermatitis (AD). Children with AD have a higher risk of developing eczema herpeticum, in which HSV type 1 (HSV-1) is the most common pathogen.
Eczema herpeticum can be severe, progressing to disseminated infection and death if untreated. Bacterial superinfection and bacteremia are usually the complications that cause mortality. It may be usually misdiagnosed as impetigo during a patient's initial treatment. Therefore a detailed history taking and characteristic cutaneous findings can help clinicians make an accurate diagnosis.
In the present case an 8-year-old girl with atopic dermatitis presented with a 3-day history of a diffuse eruption of pruritic, umbilicated, erythematous vesicles with erosion and crusting on the flexor surfaces of the legs and arms. Her parents reported that eczematous lesions had previously occurred in these locations. 

On examination, the patient was found to be afebrile, and no lymphadenopathy was present. A vesicle was unroofed, and cytologic analysis of the fluid revealed giant ballooned keratinocytes that were consistent with herpes virus infection. A direct fluorescent antibody test was positive for herpes simplex virus (HSV) type 1. 
Courtesy NEJM
The patient received a diagnosis of eczema herpeticum, an eruption of a viral infection on a preexisting site of skin disease — typically, atopic dermatitis. Eczema herpeticum is most commonly caused by HSV. The differential diagnosis includes impetigo, bullous impetigo, scabies, eczema vaccinatum, and primary varicella infection. 

Bacterial superinfection is an important consideration. Eczema herpeticum can be severe and in some cases life-threatening. Early diagnosis and systemic antiviral treatment can minimize complications. The patient was treated with acyclovir, and the lesions healed completely after 3 weeks.
Carry home message is that atopic dermatitis is the most common diagnosis in the outpatient department for pediatric dermatology may be associated with  HSV infection. Therefore the patients should be carefully examined for secondary herpes virus infection owing to the high mortality rates associated with it.

For more details click on the link: DOI: 10.1056/NEJMicm1701668