A 6-yr-old with Osteopetrosis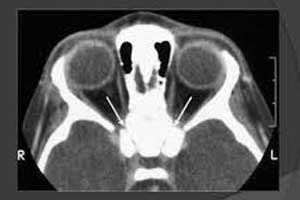 A 6-year-old girl was brought to the dentist by her parents, who reported that she had only a single tooth. Her medical history revealed that she was the child of consanguineous parents. She had partially impaired hearing and had lost her vision at 2 years of age.

In addition, she had strabismus, frontal bossing, ocular hypertelorism, and short stature. Laboratory studies were notable for a serum calcium level of 5.7 mg per deciliter (1.42 mmol per liter; normal range, 8.7 to 10.3 mg per deciliter [2.18 to 2.58 mmol per liter]) and normal serum phosphorus and alkaline phosphatase levels. Computed tomography revealed diffusely thickened bones of the skull.

A radiograph of the wrists showed alternating sclerotic and lucent bands. These findings were consistent with a diagnosis of osteopetrosis, a rare inherited disorder that is characterized by increased bone density. Typically, mutations in one of several genes lead to impaired osteoclast function and failure of bone resorption.

Complications can include cranial nerve compression, brittle bones, and bone marrow failure. Calcitriol was initiated, and the patient was referred for interferon gamma-1b therapy; however, she was lost to follow-up.

For more details click on the link: DOI: 10.1056/NEJMicm1609871
Source : With inputs from N Engl J Med