81-Year-Old Walks After Being Bed-Ridden For 15-Years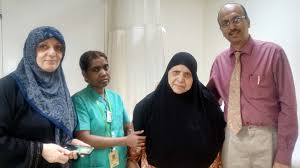 The Indian hospitals have become the central place for a wide range of healthcare services, which include the Total Knee Replacement Surgery in India. Thanks to the highly competitive healthcare services and the presence of top orthopedic doctors and surgeons like Dr. Kaushal Malhan, more and more global patients are now heading to India and getting a quality education. The story of an 81-year-old Iraqi lady called Salih bears a classic example in this regard. The lady has been bedridden since past 15 years and has found out no mobility in her legs. But when the Indian doctors took up this case they left no stone unturned to give them the global patient the relief. Not only she was relieved from her pain but also got the chance to walk after suffering from 15 long years.
The Journey Of Salih Towards The Relief And Recovery
Before we check the story of the lady from ailment to relief we need to check what went wrong in her life that made her bedridden. The lady due to her obesity and conditions like arthritis that acted tough against her making things bad to worse. She was unable to work and carry out the day to day activities on her own and hence was seen becoming dependent upon her daughter in law. Her family took lots of efforts to explore the possibilities of making her stand and walk again but was unable to get the result. They consulted doctors in their country along with places like Iran, Lebanon, and Turkey. In most of the places, she had to return as the doctors claimed that there is no solution to fix this problem for her.
However, destiny had some other plans for her and her case somewhere went to the known doctor called Dr. Kaushal Malhan from the Fortis Hospital who recommended him to under the Total Knee Replacement Surgery in India for both her knees and she will be fine walking again at the age of 81. Once he studied the case and suggested the solution, he immediately called the patient to fix the problem seeking the help of Total Knee Replacement Surgery in India since he felt that this is the right to consult the doctor and get rid of the problem once for all. Now she is all well and happy to stand once again on her feet to experience mobility in her legs. For more on this story about the Total Knee Replacement Surgery in India by the Dr.Kaushal Malhan, Contact Joint Replacement Surgery Hospital India Consultant.
Source : Press Release