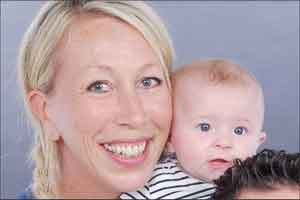 A miracle mother Tess Morten, 47 gave birth to a miracle baby seven years after going through the menopause – and finding out she was pregnant when doctors feared she may have cancer. Mrs Morten and her husband, 52-year-old Neil, married in Jamaica in 2003 and immediately began making plans to add to their family In 2015 she started hormone replacement therapy to ease hot flushes brought on by the menopause and experts believe this may have kick-started the ovulation process. Experts believe that her ovulation may have restarted by the HRT drugs she was taking to remedy hot flushes she was having.She and her husband had given up hope of ever having a baby after three failed IVF cycles.
When she went for a scan on her stomach after complaining of feeling bloated, sick and tired, she was told to fear the worse.But instead of revealing ovarian cancer the scan instead showed she was expecting a baby.
In January this year, she gave birth to Molly at the Royal Berkshire Hospital, who came out weighing healthy 7lb 14oz. The chairman of the British Fertility Society, Adam Balen, said: "I have not heard of it happening seven years later. It's amazing."
There have been several previous cases of women, who had already gone through an early menopause, falling pregnant while on HRT.In 1997, British housewife Dawn Brooke became the world's oldest natural mother at 59.She was on hormone replacement therapy when she conceived and later gave birth to a healthy son, Harry. Dr Geeta Nargund, head of reproductive medicine at St George's Hospital, London, previously told the Mail: 'There are rare cases of spontaneous ovulation for women on HRT.