4100 gallstones removed from a patient in 4 hrs intensive surgery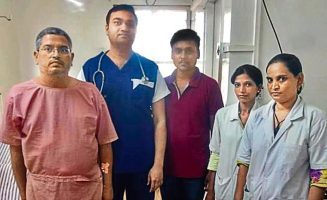 Nashik: In an intensive surgery which lasted for 4 hours, Nashik based laparoscopic surgeon removed 4100 gallstones from a man's gallbladder. Beating the second highest record of removing 3110 gallstones, the surgeon performed this rigorous surgery on last Saturday.
The case is of a 43 years old man named Yogesh Yewle who was immediately taken to Krishna Hospital after the complaint of unbearable abdominal pain. After being diagnosed with the gallbladder stone, the patient was operated by Dr. Yele. Each of the gallstones removed ranged 3mm to 4mm in diameter and after the surgery two of the hospital staffs were asked to count the number of stone who took two hours to reach the final figure of 4100.
"The patient is responding to the treatment and will be discharged next week," said Dr.Kele to Hindustan Times. He added that obesity, diabetes, irregular food habits and cholesterol are reasons behind gallstone formation, which is becoming common in women.
Kele said that gallstones are made of cholesterol and the patient visits the doctor only when the pain becomes unbearable. Surgery is the single option, he added. Severe gallstone disease can even lead to gallbladder cancer in 1 out of 1,000 patients.
The World Record for removing 11,950 gallstones from a woman's gallbladder goes to Kolkata – based surgeon Dr. ML Saha and his team. This exemplary surgery was done in 2015 which took four hours to count the number of stones.
Source : press release