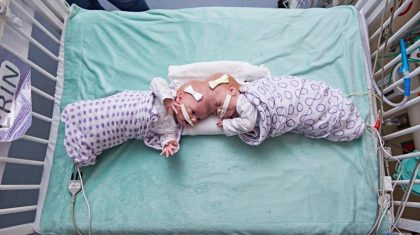 PHILADELPHIA : surgeons at Children's Hospital of Philadelphia (CHOP) successfully completed the separation of 10-month-old conjoined twins Erin and Abby Delaney. The infant girls, from North Carolina, were joined at the top of their heads, a condition called craniopagus, the least common type of conjoined twins.
Co-led by neurosurgeon Gregory Heuer, MD, PhD, and plastic surgeon Jesse Taylor, MD, a multidisciplinary team of approximately 30 members, including physicians, nurses and other medical staff from neurosurgery, plastic and reconstructive surgery, and anesthesiology, participated in the separation, which lasted about 11 hours.
"Separating conjoined twins is a very complex surgery followed by a long and complicated recovery, but we are very hopeful for a positive outcome," said Taylor. "Erin and Abby are now recovering in our Pediatric Intensive Care Unit under close monitoring by our expert teams," he added. In addition to their CHOP positions, both surgeons are on the faculty of the Perelman School of Medicine at the University of Pennsylvania.
The surgery and reconstruction climaxed months of comprehensive planning and preparation by a large team from many areas of the hospital. It is the 23rd time that surgeons at CHOP have separated a pair of conjoined twins, the first craniopagus pair.
"During the separation surgery, our team first meticulously separated the infants' shared blood vessels and dura, the tough protective membrane surrounding both brains, then moved on to separate the sagittal sinus, the most difficult portion of the operation," said Heuer. "Finally, we divided our team into two halves, one for each of the girls, and finished the reconstruction portion of the surgery."
On the morning of surgery, a team of anesthesiologists led by Alison Perate, MD, and Matthew Pearsall, MD, managed the surgical preparation for the tightly orchestrated, complex procedure, and then continued to monitor the twins' vital signs and administer their anesthesia throughout the operation.  The two sets of monitors and equipment in the room were marked with green or purple tape, one color for each of the girls.
Parents Heather and Riley Delaney first learned that Heather was carrying conjoined twins about 11 weeks into her pregnancy, early in 2016. At this point it was too soon to tell whether the twins would be candidates for separation surgery, but on their specialist's recommendation, the family made their initial contact with the Center for Fetal Diagnosis and Treatment at CHOP.
After their ultrasound at week 19 of Heather's pregnancy, the family traveled to Philadelphia for evaluation at CHOP, including prenatal imaging: high-resolution fetal ultrasound, fetal MRI and a fetal echocardiogram.
After a succession of visits with a multidisciplinary team of CHOP specialists and clinicians, Heather returned home, but travelled back to CHOP every two weeks for prenatal appointments. At 26 weeks, the medical team recommended that Heather stay in Philadelphia for the remainder of her pregnancy. She came to CHOP's Garbose Family Special Delivery Unit (SDU), a dedicated facility where mothers carrying fetuses prenatally diagnosed with birth defects receive state-of-the-art care.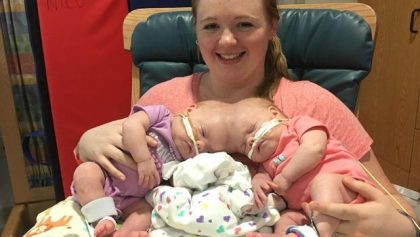 Abby and Erin were born in CHOP's SDU by C-section on July 24, 2016, 10 weeks premature, each weighing two pounds and one ounce. They received care in the hospital's Newborn/Infant Intensive Care Unit (N/IICU) for their first seven months, where physical, occupational and speech therapy teams developed innovative treatments and exercises for the infants, still connected at their heads. Surgeons and physicians formulated a comprehensive plan for their full separation.  In February of this year, Erin and Abby left the N/IICU for another unit at CHOP where they stayed while awaiting their full separation.
For the first time in their lives, Erin and Abby now lie side by side, in separate beds. As the separated infants recover from their surgery, they will be closely followed in the coming months by their surgeons, nutritionists, developmental pediatricians, and other specialists to ensure that they receive the best clinical care to enable them to thrive and grow. They will also likely undergo one or more additional surgeries.
Sometime later this year, Heather and Riley look forward to bringing Erin and Abby home for the first time. "When we go home, it's going to be a big party," says Heather. "Welcome home, baby shower, first birthday."
The surgical team consisted of surgeons, anesthesiologists, nurses and others including:
Surgeons: Gregory Heuer, MD, PhD, Jesse Taylor, MD, Phillip B. Storm, MD, Benjamin C. Kennedy, MD, Sanjay Naran, MD, and Justin Fox, MD.  Anesthesiologists: Alison Perate, MD, Matthew Pearsall, MD, Chelsea Willie, MD, and Michael Puglia, MD.  Nurses: Francesca Drake, Kathleen Dunleavy, Diann Forster, Jena Koury, Roseann Osadchuk, Anastasia Pack, Nicole Peck, Tiffany Snyder and Teresa Weckseser.