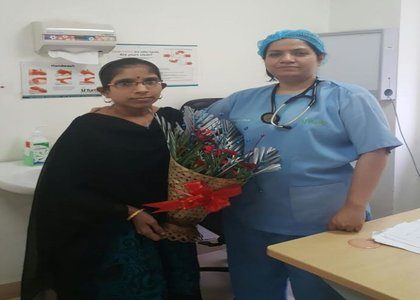 Kalyan : Doctors at Fortis Hospital, Kalyan, treated a 25yr old woman weighing only 30 kilos diagnosed with pericardial tuberculosis, constrictive variety. The patient had been suffering for over eight years with breathlessness and heart failure caused by the hardening of the membrane around her heart. It was in fact so hard it was almost like an eggshell. Her feet and abdomen were both swollen and her weight was a meager 30 kilos. Because of her illness, the patient had also missed key growth milestones and had also never menstruated in all her 25 years.
She consulted with several doctors for years that were afraid to conduct any surgery on her because of the grave risk involved. The high risk was by virtue of the fact that the pericardium (membrane) covers the heart muscle and there could be a possible risk of damage to her heart. She was then referred to Dr Zakia Khan, Consultant Cardiologist at Fortis Hospital in Kalyan. Dr Zakia Khan immediately had a CT scan and Angiography done following which she recommended the removal of the pericardium.
The pericardium had to be removed since it was the reason the young woman was in tremendous discomfort. However, the surgery couldn't be conducted right away since the patient was in a very unstable condition. It took 15 days for her to be stabilized by maintaining fluid balance, nutrition and for her heart rate to stabilize. It was only after her condition was stabilized that Dr. Santesh Kaushik conducted the surgery to remove the pericardium.
Speaking about the case, Dr. Zakia Khan, Consultant Cardiologist, Fortis Hospital, Kalyan, said, "Surgery is usually the preferred treatment to treat pericardial constriction. There was tremendous risk in conducting surgery and the patient and her family were advised accordingly. The patient is now doing fine and over the past six months, she has gained weight, and is now at a healthier 44 kilos. She has also had her first menstrual period in 25 years."
The patient was monitored by physicians, dieticians and nursing units who worked in tandem to ensure her recovery. The patient was discharged after close to 5 weeks in the hospital. Dr. Zakia and her team will continue to monitor her condition over the next few months and are confident she will be able to live a full and normal life like any other 25 year old woman.
Pericardial tuberculosis is seen in only 2% cases of pulmonary tuberculosis. Less than 1% develops constriction if not treated in time. Incidence of pericardial involvement usually increases in patients with HIV. However very few of them develop constriction.