24-hour ambulatory BP measurements - strong predictor of mortality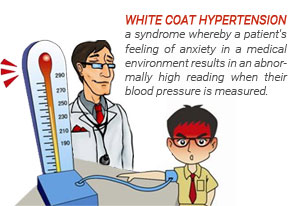 Ambulatory blood-pressure monitoring involves measurement of the patient's blood pressure over a 24-hour period as he/she carries out daily activities. Monitoring of blood pressure in clinic results in a syndrome characterized by abnormally high reading of the blood pressure due to anxiety feelings of patient in a medical environment, this is called white coat hypertension.
A new study published in New England Journal of Medicine, substantiates the same. It states that the ambulatory blood-pressure measurements are a stronger predictor of all-cause and cardiovascular mortality as compared to blood-pressure measurements done in the clinic. The results also showed an increased risk of death associated with white coat hypertension and an even stronger association between death and masked hypertension.
The research was conducted by José R. Banegas, a researcher at the department of preventive medicine and public health at the Autonomous University of Madrid, and colleagues to determine the prognostic value of 24-hour ambulatory blood pressure measurement, and examine its association with cardiovascular mortality.
Previous investigations had found that 24-hour ambulatory BP measurements were better predictors of patient outcomes than those obtained in the clinic or at home, but those investigations were small or population-based."In these studies, the number of clinical outcomes was limited, which reduced the ability to assess the predictive value of clinic blood pressure data as compared with ambulatory data," reported Dr. Banegas.
The study was based on the data obtained from a large cohort of primary care patients in the Spanish Ambulatory Blood Pressure Registry. Their analysis included 63,910 adults recruited to the registry during 2004-2014.
Patients had blood pressure measurements taken in the clinic according to standard procedures. Afterwards, they had ambulatory blood pressure monitoring that used an automated device programmed to record BP every 20 minutes during the day and every 30 minutes at night.
They found that overall clinic and ambulatory blood pressure measurements had a relatively similar magnitude of association with all-cause and cardiovascular mortality.
However, clinic systolic pressure lost its predictive power for all-cause mortality after adjustment for 24-hour ambulatory systolic pressure. The hazard ratio for all-cause mortality dropped from 1.54 before the adjustment to 1.02 after the adjustment, Dr. Banegas and his colleagues reported.
By contrast, ambulatory systolic pressure kept its predictive value after accounting for clinical systolic pressure, with a hazard ratio for all-cause mortality of 1.58 before and after the adjustment, they said in the report.
The strongest association with all-cause mortality was found in patients with masked hypertension – normal clinic readings but elevated ambulatory readings. The hazard ratio for all-cause mortality in that group was 2.83 when adjusted for clinic blood pressure, with similar findings reported for cardiovascular mortality.
The finding of elevated clinic BP and normal 24-hour ambulatory BP had a hazard ratio of 1.79 for all-cause mortality after adjustment for clinic BP, results showed.
"In our study, white coat hypertension was not benign, which may be due in part to the higher mean blood pressure over 24 hours in these patients (119.9/71.9 mm Hg vs. 116.6/70.6 mm Hg in normotensive patients; P less than .001) or to their metabolic phenotype," the investigators wrote.Most primary care clinicians already recognize the limitations of in-office blood pressure measurement and the study corroborates their belief.
For further information click on the link: 10.1056/NEJMoa1712231