23 year old bomb survivor gets a new lease of life at Jaypee Hospital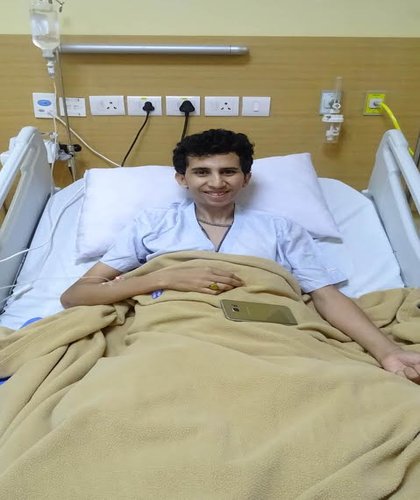 Team of doctors from GI & Hepatopancreaticobiliary surgery department of Noida based Jaypee Hospital have successfully performed a critical surgery of a 23 year old, Osmah Mohammad. Osmah is from Yemen and his life became miserable after he got injured in a bomb blast two years back. His urinary bladder and rectum got badly ruptured in the blast. He received multiple injuries namely rectal wall injury at midrectum, bladder trigone injury, pelvic fracture with Left sciatic nerve injury. After having multiple surgeries such as Hartmans colostomy, bladder injury repair and the treatment of rectal fistula (three times) in Yemen, Oman and Iran, Osmah finally came to India to get his surgery done. The surgery at Jaypee Hospital has been performed by Dr. Rajesh Kapoor and his team.
Explaining about the problem Osmah was going through Dr. Rajesh Kapoor, Director, GI & Hepatopancreaticobiliary surgery department, Jaypee Hospital said, "Before coming to Jaypee Hospital the patient had undergone several surgeries in Yemen, Oman and Iran. In Yemen, the problem in his urinary bladder was corrected but rectum perforation couldn't be taken care of. Doctor's created Diversion Colostomy for passage of stool in bag but still rectum perforation continued to persist and the patient was asked to live with an artificial stool passage."
"In order to correct this we performed Residual Proctectomy Coloanal Pull Through & Diverting Ileostomy Surgery on him. In this surgery Osmah's rectum was removed and his large intestine was pulled down from its actual place to create a normal passage for excretion," Dr. Kapoor added.
"After coming to India, I went to a hospital in Bangalore. The doctors admitted me in the hospital but later on refused to perform the surgery after seeing the complexity of my case. When I came to Jaypee Hospital, I was in a very bad situation. Even after continuous efforts of the doctors to make me understand that I can permanently get rid of my problem; it was hard for me to believe as many doctors had said the same thing and I had already undergone several surgeries in other countries as well but none was able to treat it completely. But after getting operated here at Jaypee Hospital, I am totally amazed and thankful to Dr. Rajesh Kapoor and his team because of whose efforts I am now able to live a normal life", said Osmah Mohammad.
The doctors of GI & Hepatopancreaticobiliary surgery department of Jaypee Hospital are excelled to perform such critical surgeries related to digestive tracts and patients not only from Delhi NCR but also from other countries visit the hospital to get themselves treated.