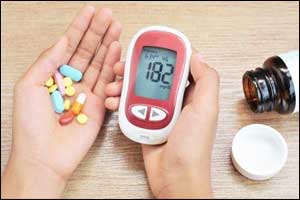 The American Diabetes Association has released its annual "Standards of Care" guidelines for 2018 or  Standards of Medical care in Diabetes.They have been published online on 8th December in 'Diabetes Care'.
The Key focus of the recommendations is:
New recommendations for use of glucose-lowering drugs with proven cardiovascular benefit in type 2 diabetes- The new guidelines recommend use of a glucose-lowering agent with the proven cardiovascular benefit like (GLP-1) agonist Liraglutide) and/or mortality reduction like SGLT2 inhibitor Empagliflozin in Type 2 Diabetes patients with established atherosclerotic cardiovascular disease (ASCVD) who can't reach  glycemic targets with lifestyle modification and Metformin.
Otimization of diabetes care in elderly patients-older adults with diabetes to reduce the risk of hypoglycemia, avoid over treatment and simplify complex regimens while maintaining personalized blood glucose targets.
Glucose screening of high-risk adolescents-Screening for Prediabetes and Type 2 Diabetes in children and adolescents who are overweight or obese and who have one or more additional risk factors.
Guidance for expanding the use of continuous glucose monitoring (CGM) in all adults aged 18 years and older with T1 Diabetes who don't meet glycemic targets (from the current age of 25 and above).
Regarding definition of hypertension in diabetes, American Diabetes Association has stuck with its existing reading of 140/90 mm Hg, in contrast to ACC/AHA that recently termed ≥130/80 mm Hg as Stage 1 hypertension.
The Standards of Care incorporate comprehensive information based upon current research findings and an extensive body of literature. The important changes and updates in the 2018 edition are:
Cardiovascular disease and diabetes
Based upon the results of multiple cardiovascular outcome trials (CVOT), there are new treatment recommendations for adults with type 2 diabetes, suggesting a pathway for people with heart disease that, after lifestyle management and metformin, should include a medication validated to improve heart health. A new table outlines the data from recent CVOT studies, and a new figure details our recommendations based on those CVOT studies. (Section 8, page S76, Table 9.4 and Figure 8.1, respectively)
Four major, randomized controlled trials that compared intensive versus standard hypertension treatment strategies are summarized and outlined in a new table, providing support for the ADA's recommendations that most adults with diabetes and hypertension should have a target blood pressure of <140/90 mmHg and that risk-based individualization to lower targets, such as 130/80 mmHg, may be appropriate for some patients. The studies highlighted include the Action to Control Cardiovascular Risk in Diabetes Blood Pressure (ACCORD BP) trial; the Action in Diabetes and Vascular Disease: Preterax and Diamicron MR Controlled Evaluation—Blood Pressure (ADVANCEBP) trial; the Hypertension Optimal Treatment (HOT) trial; and the Systolic Blood Pressure Intervention Trial (SPRINT). (Section 9, page S88, Table 9.1)
A new algorithm illustrating the recommended antihypertensive treatment approach for adults with diabetes and confirmed hypertension (blood pressure ≥140/90 mmHg) has been added. (Sectin 9, page S90, Figure 9.1)
Also new this year is the recommendation that all hypertensive patients with diabetes monitor their blood pressure at home to help identify potential discrepancies between office vs. home blood pressure, and to improve medication-taking behavior. (Section 9, page S87)
A1C test considerations
Additional language and recommendations have been added to help ensure appropriate use of the A1C test to diagnose diabetes and for monitoring glycemic control in people with diabetes. The A1C can give skewed results in people with certain conditions that alter the lifespan of red blood cells in the body (the ability of the A1C test to provide a measure of average blood glucose over time is based on the lifespan of red blood cells), as well as in people with certain genetic traits that alter the molecules in their red blood cells. Age, ethnicity, and pregnancy can also affect A1C results. The ADA emphasizes that health care providers need to be aware of these limitations, to use the correct type of A1C test and to consider alternate diagnostic tests (fasting plasma glucose test or oral glucose tolerance test) if there is disagreement between A1C and blood glucose levels. (Section 2, page S14)
Diabetes management in specific groups:
Three new recommendations were added to highlight the importance of individualizing pharmacologic therapy for older adults with diabetes to reduce the risk of hypoglycemia, avoid overtreatment and simplify complex regimens while maintaining personalized blood glucose targets.
A new guideline recommends all pregnant women with preexisting type 1 or type 2 diabetes should consider daily low-dose aspirin starting at the end of the first trimester in order to reduce the risk of pre-eclampsia.
Additional important updates
The immunization needs for people with diabetes were clarified and updated to more closely align with recommendations from the Centers for Disease Control and Prevention. (Section 3, page S29-31)
A new section describes emerging evidence that specific glucose-lowering medications delay the onset and progression of kidney disease. (Section 10, page S108)
A detailed table highlighting the components of a comprehensive medical evaluation has been redesigned and reorganized. It incorporates information about the recommended frequency of the components of care at both initial and follow-up visits, including regular screening for mental health. (Section 3, page S30, Table 3.1
Beginning in 2018, the ADA will update and revise the online version of the Standards of Care throughout the year with necessary annotations if new evidence or regulatory changes merit immediate incorporation.
For further reference log on to :